Democracy Initiative Aims to Take Money Out of Politics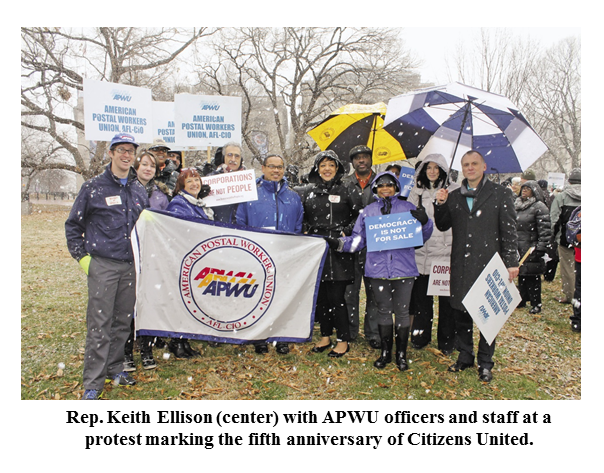 (This article first appeared in the March-April 2015 issue of The American Postal Worker magazine.) 
Alarmed by the increasing role of corporate funding of elections and the suppression of voting rights in recent elections, a coalition known as the Democracy Initiative is taking a stand. The group is committed to stopping the suffocating influence of corporate money in politics, empower voters and fix the dysfunctional Senate. The coalition is made up of labor organizations, civil rights groups, voting rights organizations, environmental groups, good government organizations and others.
The Democracy Initiative is focused on rectifying three specific barriers to democracy.
An increase in voter suppression and disenfranchisement. Changes to state voting laws include restrictions on the types of identification required to cast a ballot, making it harder for students, people of color, members of the military, the elderly and the poor to vote.
An influx of money in politics. A 2010 Supreme Court decision known as Citizens United allows companies, organizations and individuals to donate unlimited, undisclosed amounts to campaigns. Since then, elections have been flooded with billions of dollars of increased spending by corporations and the super-rich, drowning out the voices of ordinary Americans.
Chronic obstruction of democracy in the U.S. Senate. Although our country is facing enormous obstacles, some members of the Senate have blocked debate on the nation's most important issues.
The APWU is a proud member of the Democracy Initiative. For information, visit www.DemocracyForUs.org.
Stay in touch with your union
Subscribe to receive important information from your union.