APWU officers, retirees rally for the Social Security Fairness Act in the Nation's Capital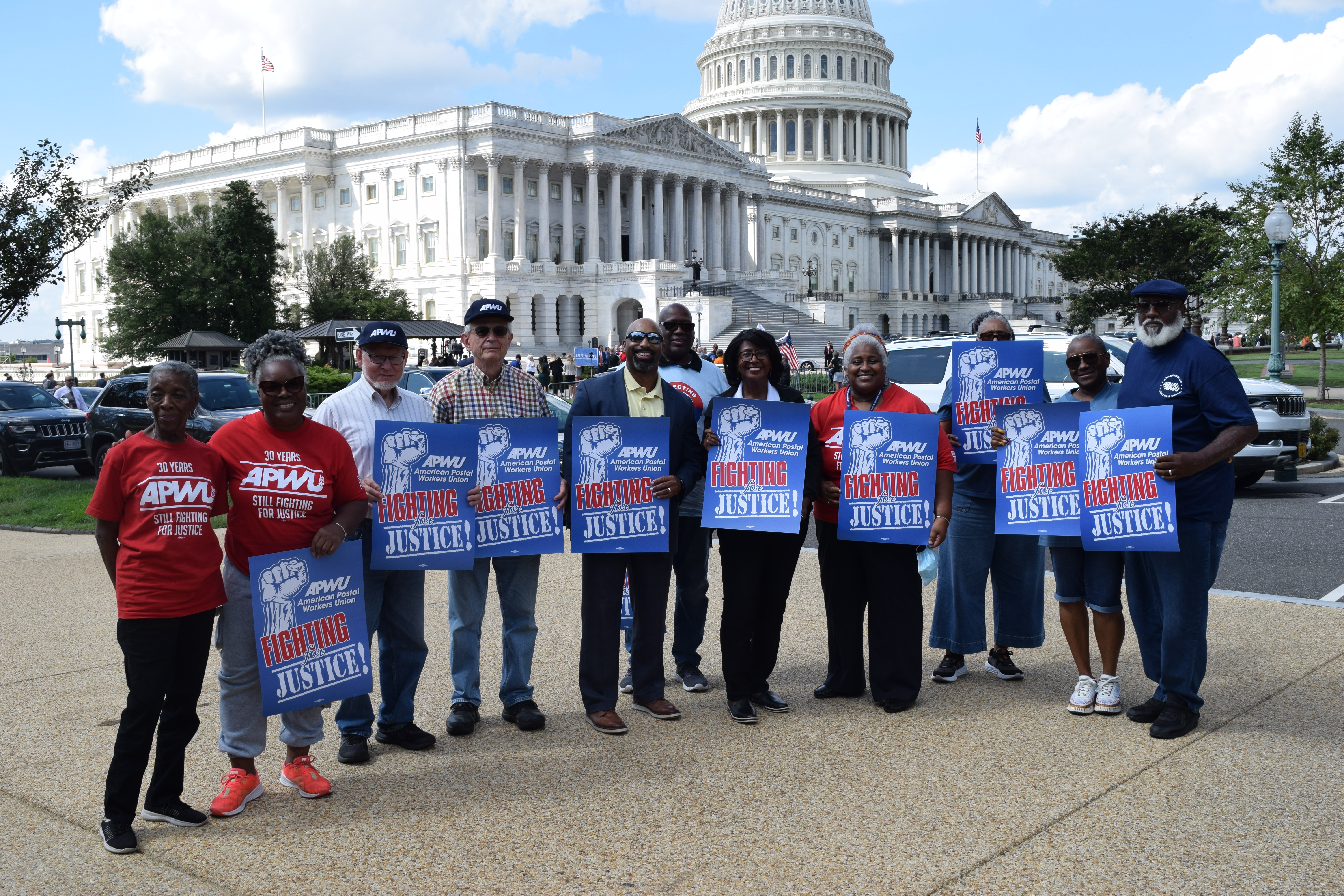 On Sept. 13, 2023, APWU national officers, members, and retirees attended a rally during the National WEP/GPO Repeal Task Force Advocacy Summit on Capitol Hill in Washington, DC.
The rally was held in support of the Social Security Fairness Act (H.R. 82, S.597), which calls for the repeal of the Windfall Elimination Provision (WEP) and the Government Pension Offset (GPO). 
The WEP and the GPO either cuts or eliminates the earned benefits of more than 2.5 million retirees. Retirees who earn even part of a public pension from a government job that doesn't pay into Social Security can lose part or all of their earned Social Security retirement benefits. These unfair, outdated provisions of the Social Security code must be repealed.
"I am asking every APWU member to do their part to gain support for the Social Security Fairness Act - H.R. 82," requested APWU Retirees Director Nancy Olumekor. "Now is the time for Congress to repeal the WEP and GPO, these injustices have been around for almost 40 years depriving many public servants - federal, state, and local workers of their full Social Security benefits."
"The National WEP/GPO Repeal Task Force is a diverse coalition of retired and active public sector organizations working toward one goal, and I believe that all of us united in this legislative battle will not be defeated!  I encourage all APWU members to contact your congressional representatives, [and] urge them to co-sponsor and vote for H.R. 82."
"For too long, the WEP and GPO have been making cuts to seniors' Social Security money," said APWU Legislative and Political Director Judy Beard. "Tragically, many do not learn about it until they see their first Social Security check, and they feel the effects of the cut when balancing the costs of buying food, paying house notes and living expenses."
"Fortunately, Congresswoman Spanberger, Congressman Graves, Senator Brown, and Senator Collins are leading a bi-partisan bill, the Social Security Fairness Act, to fix this injustice and [to] make sure seniors affected by the WEP and [the] GPO get the benefits they have earned. The APWU is proud to be part of the fight. Let's tell Congress to right their wrong."
The APWU and labor allies are holding a Call Congress Day of Action on September 27 to advocate for the passing of the Social Security Fairness Act. Call the APWU's Legislative Hotline at (844) 402-1001 to be connected to your representative and ask them to support the Social Security Fairness Act (H.R. 82 in the House and S.597 in the Senate).
For more information, visit: www.apwu.org/call
Stay in touch with your union
Subscribe to receive important information from your union.