Private-Sector APWU Members at Salmon & Sons Ratify Tentative Agreement
APWU members who are truck drivers and mechanics working for Pat Salmon & Sons voted to ratify a tentative contract by a vote of 82-34 on Sept. 10. The new contract will affect 283 drivers and mechanics who are represented by the Texoma (Dallas), Little Rock, Memphis, and Shreveport locals.
The contract, which expired June 1, will remain in effect through March 1, 2017. The Tentative Agreement was reached on July 30, following three contract extensions.
Richard Phillips was assigned by Support Services Director Bill Manley to chair the Negotiation Team, which also included Sonny Castleman and Mike Robinson (Dallas), Dottie Johnson, Billy Ashley, and Bill Carson (Little Rock), Bob Wheeler, Marion Hall, and Ali Wright (Memphis), and Chuck Hammond, and Shon Andrus (Shreveport). The team received technical assistance from APWU Manager of Negotiation Support Phil Tabbita.
The new contract includes improvements regarding Layoffs and Leave of Absence, Discipline, Probationary Period, Seniority and Employee Classification, Job Bidding, Light Duty, Extra Board Dispatch Procedures, Work Rules, Equipment and Safety (including the establishment of a new Safety Incentive Award Program, as well as a new 25 Year Commitment Award), Union Representation, Holiday Scheduling, Holiday Pay, Vacation Scheduling, Wages for drivers who perform work on a voluntary bases, as well as an increase in the wages for the Shreveport mechanics, Fringe Benefits (including an increase in Layover Pay, as well as the establishment of a new voluntary 401(k) plan), and Health Insurance (an additional "buy up" $250 deductible plan, as a voluntary alternate to the standard $1,500 plan), Phillips said.
The agreement also includes new and stronger language regarding Management/Union Cooperation and Information to the Union, and Grievance and Arbitration Procedure (including a faster appeal process and the establishment of a standing arbitration panel), he said.
In addition, after much discussion, the company withdrew several regressive proposals, including proposals that would have made it easier for management to issue discipline. Perhaps the most contentious issue involved the company's proposals to issue discipline based solely on monitoring devices that have been installed in the cabs of their fleet. The result was new language that supports that union's position that such devices are designated for safety and training purposes and are not to be used solely for discipline, Phillips said.
The union hopes to have copies of the new contract available for all drivers and mechanics who are members of the TEXOMA, Little Rock, Memphis, and Shreveport locals shortly. Copies will be mailed to each local president for distribution to members.
Click here for highlights of the agreement.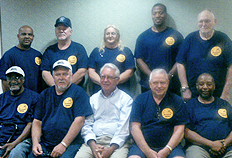 Stay in touch with your union
Subscribe to receive important information from your union.