Following the horrific events of Sept. 11, 2001, the nation paid tribute to the workers who faced unimaginable danger when they responded to the terrorist attacks that killed nearly 3,000 people. Three hundred fortythree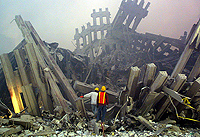 firefighters and 72 police officers were among those who lost their lives, and many other rescue workers were injured.
Although it received little notice at the time, most of the workers who were celebrated in the media and honored by politicians were union members — and many were unionized government employees.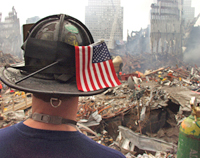 Today, however, public-sector employees are vilified by antilabor politicians and pundits. In many states, GOP leaders are targeting public workers' pay, benefits and bargaining rights while cutting taxes for the wealthiest citizens and corporations, remarked AFL-CIO President Richard Trumka at an event honoring the public servants who were killed on 9-11.
Anti-labor extremists are trying to turn union workers into "Public Enemy No. 1 — as though teachers and firefighters, EMTs and nurses, and union construction workers ruined America's economy," Trumka said.
Federal and postal workers are facing the same onslaught from anti-labor members of Congress, noted APWU President Cliff Guffey. "The stakes in November's elections couldn't be higher. We must help turn the tide and elect more legislators who will stand up for working Americans."
Here's a brief look at just a few of the union workers who helped save lives on that fateful day.
---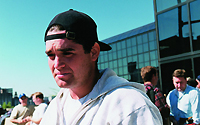 Pat Mahon
Pat Mahon and other members of Laborers Union Local 789 worked around the clock to help remove debris and recover bodies. "When we find a body, we stop and call in the firemen and police," he said at the time. "It broke my heart. We can build a new building, but we'll never bring those people back."
Joyce Bufolino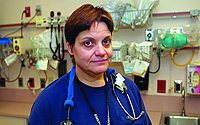 Joyce Buffolino, a member of the New York State Nurses Association, was working at New York's Bellevue Hospital when the first plane crashed into the World Trade Center at 8:46 a.m.
"The first patient by ambulance was a firefighter who was hit by a person falling from one of the buildings," she recalled. "The firefighter kept repeating, 'They never thought it was going to collapse,'" she said.
Iron Workers Local 580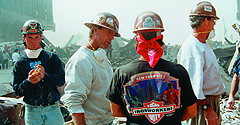 Iron Workers Local 580 members were some of the first volunteers to arrive at Ground Zero to assist with the rescue and recovery efforts. With their skills and knowhow, they quickly and safely removed tons of twisted steel to help find survivors and extricate the dead.
"You have to be very careful when you start pulling debris out," noted one union member. "It was great to have so many [other] volunteers, but when it comes to the hairy stuff, you've got to have experienced people." Another member, Bob Benesh, located a trapped survivor. "I couldn't believe it," he recalled. "Her eyes were wide open. She didn't say a word. But she was alive."
Dora Jones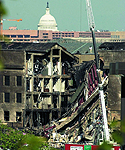 Dora Jones, a member of the American Federation of Government Employees, was working at her desk in the Pentagon when a highjacked plane struck the building and burst into flames. She escaped the fire but noticed that a co-worker with a disability had not emerged from the building. 
Jones and several other AFGE members went back in to find her and assist others in the evacuation.
Kevin Cahil
Members of New York City's police and fire departments paid a heavy price. Three hundred forty-three firefighters were killed when the towers collapsed, and many survivors are still traumatized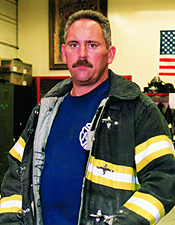 by the memories of fallen colleagues. Many more suffer from illnesses contracted from toxic dust at the disaster site.
Kevin Cahill, a member of the International Association of Fire Fighters, was one of many off-duty New York City firemen who raced the scene as soon as he heard the news. "I just wanted to get down there as soon as possible to see what I could do to help," he recalled. "Our firehouse was lucky – we have all our guys," he added, noting that 55 other New York City fire companies suffered tremendous losses. "There were a lot of good friends, a lot of good guys."
Many union firefighters, EMTs, and paramedics were injured during rescue operations as they searched the rubble for victims. Some fell through gaps beneath the fallen girders and concrete, and many collapsed from exhaustion from working around-the-clock. "Union members are doing it," Cahill said at the time, noting their sense of duty and solidarity." You see uniforms from Chicago, Los Angeles, everywhere."
---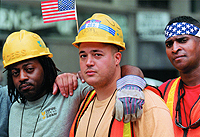 Solidarity was not limited to first responders. Union machinists and electrical workers from Genoa, IL, transported a mobile telephone switching unit that could handle 4,000 lines to New York and set up a telecommunications system for recovery operations. Steelworkers from Boston manned a "bucket brigade" at Ground Zero to help clear debris for rescue workers. Stagehands from New York and beyond volunteered to set up and operate spotlights and other heavy equipment that enabled recovery operations to work around-the-clock. Postal workers in Richmond loaded trucks with supplies ranging from face masks to food for rescue dogs, and APWU members around the country donated to relief organizations.
Stay in touch with your union
Subscribe to receive important information from your union.