Join the USPS Fairness Act Nationwide Phone Action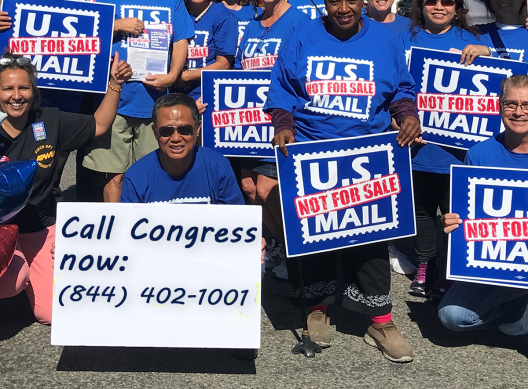 Today: Stand up for our public Postal Service. It's time to protect America's most cherished institution. We are telling our elected representatives to pass the USPS Fairness Act.
In 2006, Congress saddled our public Postal Service with an unfair and unsustainable burden of pre-funding retiree health care benefits 75 years into the future! The USPS Fairness Act will start to put that right by removing the unfair burden. 
Call your member of Congress by dialing (844) 402-1001 right now
If you are viewing this on a phone or you can call from this device, just click the "call now" button.
As the APWU's top officer, the President is responsible for all of the operations of the national union, as outlined in the Constitution and Bylaws. The President oversees all the activities conducted by the officers and staff of every department, division, and committee defined by the APWU Constitution.
Resources
General Resources


U.S. Mail is Not For Sale! Resources


Postal Banking Resources


Postal Union Alliance Resources


A Grand Alliance Resources


President Dimondstein Opening Negotiations with USPS
President Dimondstein's opening remarks For APWU Contract Negotiations 2018 in Washington, D.C. on June 26th.
Stay Informed
Subscribe to receive important information from your union.