We stand in solidarity with working people everywhere
Workers are struggling all across the world to fight for safe working conditions, fair wages, and decent benefits, and supporting each other is crucial to building a strong labor movement. APWU stands in solidarity with working people everywhere. We are all in this together! Read below to learn more about some of the struggles our brothers and sisters are engaged in, and find out how you can help: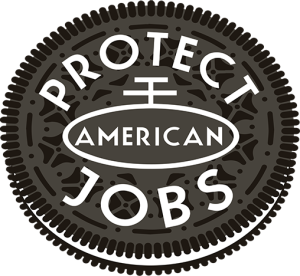 Check the label and BOYCOTT Nabisco products made in Mexico!
Mondelēz International, which makes Nabisco snacks, outsourced 600 good union jobs to Mexico, closing the largest commercial bakery in the United States. The company isn't losing money; this move was simply to line the pockets of the CEO, Irene Rosenfeld, and other stakeholders and executives. As a result, BCTGM union workers in Chicago lost their jobs.
Stand together with our BCTGM brothers and sisters. Click here to learn more.
On Jan. 15, APWU officers and members protested with union sisters and brothers from the NALC, National Nurses United, Teamsters, the BCTGM (Bakery, Confectionery, Tobacco Workers and Grain Millers) International Union, and SEIU outside the Canadian embassy. The "solidarity across borders" action supported our postal brothers and sisters in the Canadian Union of Postal Workers forced back to work by the Canadian government.