Join the USPS Fairness Act Nationwide Phone Action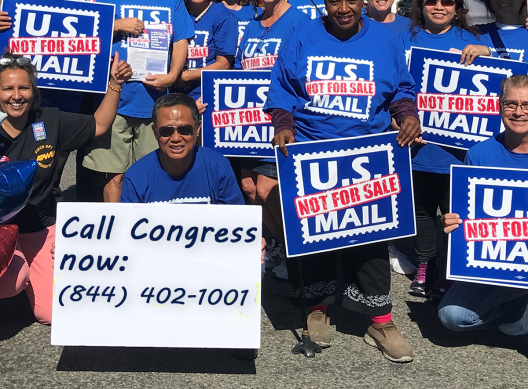 Today: Stand up for our public Postal Service. It's time to protect America's most cherished institution. We are telling our elected representatives to pass the USPS Fairness Act.
In 2006, Congress saddled our public Postal Service with an unfair and unsustainable burden of pre-funding retiree health care benefits 75 years into the future! The USPS Fairness Act will start to put that right by removing the unfair burden. 
Call your member of Congress by dialing (844) 402-1001 right now
If you are viewing this on a phone or you can call from this device, just click the "call now" button.
About the Maintenance Division
The Maintenance Craft is a diverse and complex division of the APWU, comprised of approximately 40,000 employees. In addition to the three national officers who work at the union's headquarters in Washington, DC, representation is provided by nine Maintenance National Business Agents (NBAs) and three all-craft NBAs.
MS 1 BEM Staffing Updates
(This article first appeared in the May/June 2019 issue of the American Postal Worker magazine)
Building Equipment Maintenance (BEM) Mechanics are responsible for maintaining postal building infrastructures, namely (1) Building Electrical Systems (HVAC) and (2) plumbing, air compression, elevators, dock levelers, dock doors, power distribution, switch gears, and power panels. BEM Mechanics must use the MS1 Handbook Manual to calculate required staffing.
In May 2016, the Postal Service issued a new MS1 TL 5, proposing draconian changes to the then-current MS1 TL 4 Handbook. The APWU filed a dispute, and Maintenance Division Director Balogun was the assigned case officer. In 2017, Arbitrator Goldberg concluded the dispute by remanding the case back to APWU and USPS to resolve.
Resources
Contract


USPS Handbooks and Manuals