249 Post Offices, Stations, Branches on a Suspension / Discontinuance List for 2019
(This article first appeared in the May/June 2019 issue of the American Postal Worker magazine) 
State and local presidents have been sent the latest Suspension List for 2019 that was released after Quarter 4 FY 2018. A Mobilizing Toolkit was also sent to help mobilize members and the communities to help save our post offices on that list. The toolkit describes the community's rights involving notifications, postings/letters of a proposal to discontinue a post office and a notice of a final USPS decision to discontinue. The USPS must provide a "community meeting" at a time and place that allows for all patrons to have the opportunity to speak on the issue of the proposal, provide an opportunity for written comments, and must provide appeal rights if the USPS decides to discontinue (close), reduce hours, or relocate the post office.
Many of the offices on the list are either Post Plan offices or small, remote, or rural post offices. The Postal Reorganization Act of 1970 calls for a maximum degree of effective and regular postal service to rural areas, communities and small towns where post offices are not financially self-sustaining.
The toolkit explains how to get a meeting rescheduled and how to get the message out to the community through media and mobilizing work. It provides steps to take to save a post office and petition the community. Political and legislative officials, as well as the community, should be invited to participate at these meetings. The community can petition and provide comments and input in writing. The toolkit also provides a model for a successful meeting, including talking points and questions to ask that address specific needs of the community, as well as more mobilizing opportunities.
The toolkit gives sample arguments and procedures that the community should take when appealing to the Postal Regulatory Commission over a final USPS decision to discontinue the post office. Each office has its own specific needs that should be addressed. You must request documentation from the USPS as well as provide community documentation in the appeal process that supports keeping your post office open full-time with full services.
The toolkit has a list of service needs that the community may want to include in their appeal and the importance of keeping their post office open full-time with full and expanded public services, such as internet Wi-Fi, check cashing/banking, notary, copying/printing, fishing/hunting licenses, vote-by-mail and absentee ballot services to help connect the rural community. The toolkit provides resources from other organizations who also found ways to save our post offices. Those resources were utilized in preparing our toolkit. You can also visit agrandalliance.org for additional help. If you are interested in a copy of the "Mobilizing To Save Our Post Offices" toolkit or the latest 2019 Suspension List, please contact me at dszeredy@apwu.org or go to the Executive Vice President's page on apwu.org.
---
Did You Know?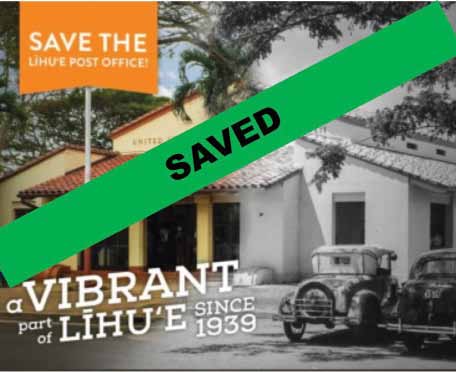 Līhu'e Post Office is a historic and centrally located post office in Hawaii that was scheduled to close in 2017 and relocate to a carrier annex in an industrial park.
The community fought to keep the post office open, and a year later, on Dec. 28, 2018, the USPS changed their mind. The community prevailed thanks to the work of a grassroots coalition. Community power can make a difference. Building your community base helps all our campaigns.
Stay in touch with your union
Subscribe to receive important information from your union.