Every hour, thousands of Americans require some type of essential human service. However, trying to determine what service is available or how to qualify for a service can be a challenge even for the most resourceful and tenacious of individuals. That's where 2-1-1 comes in.
2-1-1 is a free, confidential information and referral service – available throughout most of the country – that is making it easier for people to connect with agencies and vital community based organizations that provide aid.
With the support of local chapters of the United Way and the Alliance for Information and Referral Systems, 2-1-1 was designed to take the hassle out of locating assistance. 2-1-1 has an enormous network of benefactors, an intricate technology system, and trained information specialists that help callers navigate through a maze of programs quickly and efficiently. Last year, 2-1-1 answered more than 15.6 million calls.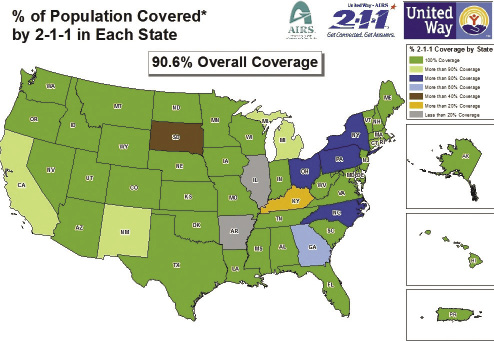 But millions more still need to get connected to this invaluable resource and the benefits it can deliver.
2-1-1 offers access to a variety of services, but it is important to keep in mind that they vary from one community to the next. Typical services from 2-1-1 generally include the following:
• Basic human needs resources: food banks, clothing, homeless and domestic violence shelters, housing and rental assistance, and utility assistance.
• Physical and mental health resources: medical information lines, crisis intervention services, support groups, counseling, drug and alcohol addiction programs, rehabilitation, healthcare and insurance programs, Medicaid and Medicare, maternal health and children's health insurance programs.
• Employment support: unemployment benefits, financial assistance, job training, transportation assistance and education programs.
• Support for seniors and people with disabilities: home health care, adult day care, congregate meals, Meals on Wheels, respite care, transportation, and homemaker services.
• Support for children, youth and families: Quality childcare, Success by 6, after school programs, Head Start, family resource centers, summer camps and recreation programs, mentoring, tutoring, and protective services.
2-1-1 Info is currently available to approximately 270 million Americans nationwide (90 percent of the U.S. population). It is available in all 50 states, and can also be accessed by residents living in the District of Columbia and Puerto Rico.
Forty-one states have greater than 90 percent coverage; 2-1-1 coverage is at 50 percent or less in four states: KY, IL, AR, and SD.
2-1-1 call centers are funded by community foundations; local, state and federal government, and donations made to local United Ways. 2-1-1 also provides volunteer opportunities at various levels of commitment.
Keeping people and communities healthy begins with ensuring that everyone's basic needs are met. It demands economic opportunities and access to resources that enrich lives. 2-1-1 is helping make a difference. If you or someone you know needs assistance, call 211.
To learn more about 2-1-1 or to help with its mission, visit www.211info.org, or email volunteer@211info.org .
Stay in touch with your union
Subscribe to receive important information from your union.