50,000 United Auto Workers (UAW) Members on Strike Against General Motors
APWU President Mark Dimondstein calls on all APWU locals, state organizations, retiree and auxiliary chapters and members to support our brother and sister GM workers in their strike for job security and equal pay.
"We could not have won the Stop Staples fight without labor solidarity and the GM workers will need solidarity to win their fight," said President Dimondstein. "While we are currently fighting to end the divisive multi-tier pay system in the USPS in ongoing contract arbitration, the GM workers have taken the same battle to the streets. A victory for them will be a victory for us!"  
The GM workers and their union agreed to massive concessions in the financial crisis, starting in 2008, as part of a government bail-out. GM received $11 billion from the taxpayers.
Not surprisingly, in the years since the financial crisis, GM's profits have soared. The company made a near-record $12 billion in profits last year, and CEO Mary Berra's 2018 salary of nearly $22 million was an outrageous 281 times the amount that the average GM worker brought home. Yet, the company laid off workers and shuttered plants.
Equal pay and the elimination of the two-tier system, and a steep reduction in the use of temporary workers, are among the central demands in the strike.
"We have given away so many concessions over the last eight-plus years, and this company has been ridiculously profitable over that time," Chaz Akers, an assembler at G.M.'s Detroit-Hamtramck plant, told the New York Times. "That's why we're here. We're fighting to get everything that we lost back."
Another important demand is maintaining the status quo on employee health care costs. Workers paid between 3 and 4 percent of costs during the last contract, but in negotiations, GM presented an unacceptable offer that increased that number to 15 percent. Other union demands include increased job security, reopening of closed factories and general wage increases.
According to the Detroit Free Press, the strike is expected to be a long one, lasting weeks rather than days. As unionized GM workers prepare to walk the picket line for an extended period, they have already received inspiring solidarity from fellow union brothers and sisters: on Monday, the Teamsters Union announced its members would honor the strike and refuse to transport GM vehicles from plants to dealerships.
UAW asks for support by bringing water, food, and grocery store gift cards to picket lines. To find a picket line near you, call UAW's Education Department line at 313-926-5474. If you are not near a GM facility, the UAW is asking for messages of solidarity through social media with the hashtag, #standwithUS.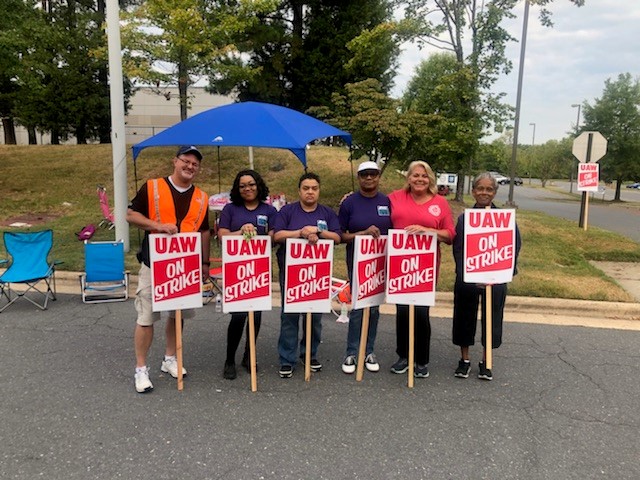 Stay in touch with your union
Subscribe to receive important information from your union.