Activists Push for Cleveland Pilot Program
(This article first appeared in the July/August 2019 issue of the American Postal Worker magazine)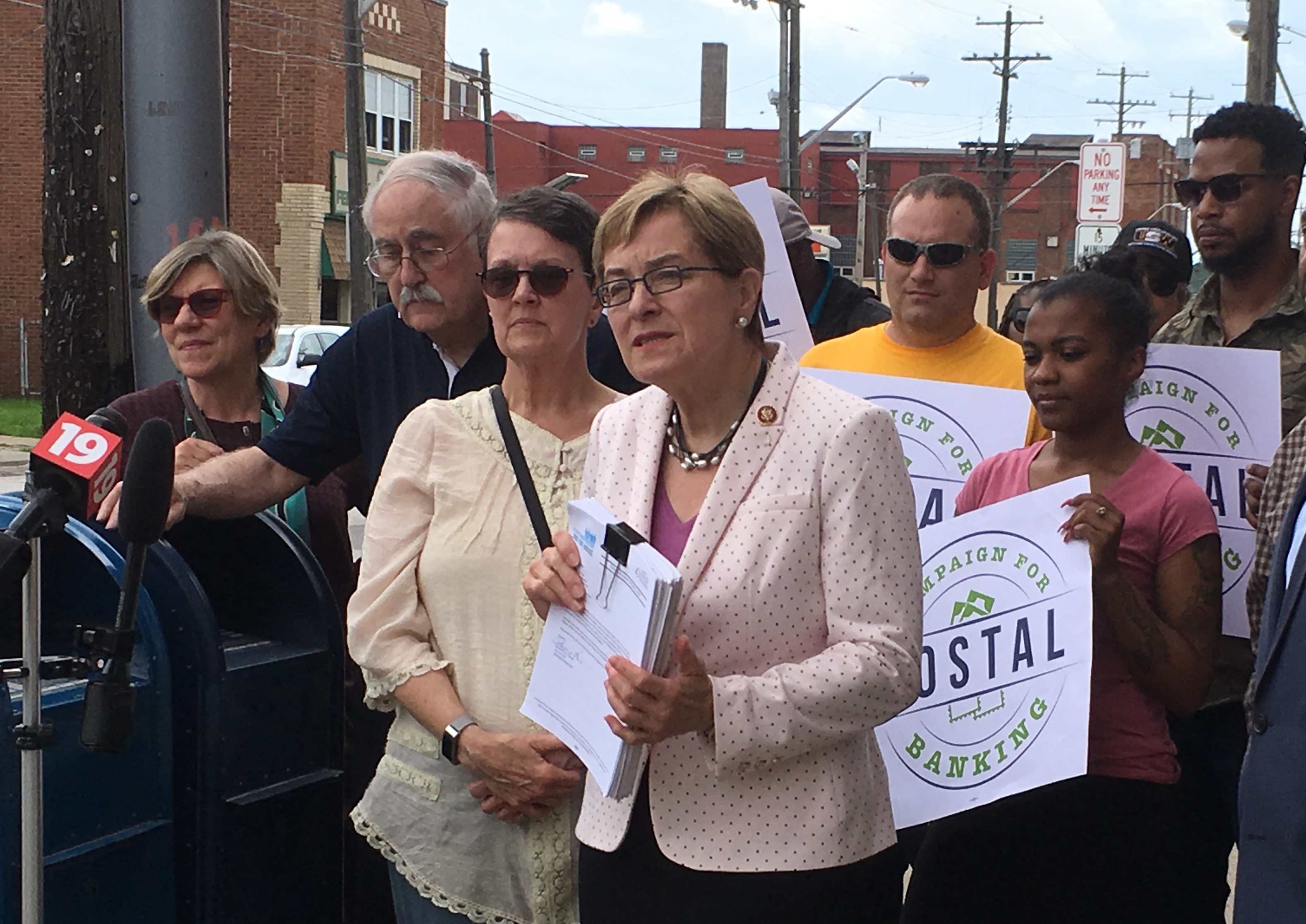 On May 30, postal workers in Cleveland, OH had a special delivery for Postmaster General (PMG) Megan Brennan. Joined by Representative Marcy Kaptur (D-OH-09) and a number of community allies, the postal workers delivered more than 1,500 petitions to the PMG calling for a postal banking pilot program in the Cleveland area.
Nationwide, approximately 25 percent of households are either unbanked or underbanked. In the Cleveland area, that figure reaches nearly 30 percent. People in these homes regularly fall victim to predatory payday lenders to meet unexpected expenses, or face abusive check cashing counters in the process of acquiring access to their own money.
With more than 35,000 post offices across the country, postal financial services could help narrow the gap between excluded communities and the fully banked.
"We're trying to get the post offices empowered to offer limited financial services in neighborhoods that have no financial services that are fair right now," Kaptur told local news station WKSU. "This would be a great place for the Postal Service to test the concept."
Communities in Northeast Ohio particularly understand the difference between having access to affordable financial services and not. Since the financial crisis began in 2007, more than 6,000 bank branches in the area have closed – many of them in working class communities.
Postal workers and allies, led by the Cleveland chapter of Jobs with Justice, organized support for postal financial services across their region. City councils in Cleveland, Fairview Park, Brook Park and Lakewood adopted resolutions calling on USPS to pilot postal financial services in the region.
The Campaign for Postal Banking demanded that postal management exercise the authority it already has under the law to expand the offering of financial services at post offices. A 2014 report of the Postal Service's Inspector General found that paycheck cashing, installing ATMs, establishing a bill payment system, and expanded wire transfer systems are all within the Postal Service's authority.
"The Postal Service can introduce these financial services tomorrow – there's no need to change the law," said APWU Cleveland Area Local President Daleo Freeman. "Postal workers, government and local community leaders are all united in our call on the Postmaster General to bring postal banking to Cleveland." Last fall, postal workers and allies in the Bronx delivered a similar petition calling for postal banking pilots there. Representative José Serrano (D-NY- 15) and other New York representatives joined campaigners and continue to urge postal management in Washington to implement the pilot programs.
Postal workers can request paper petitions from the Campaign at info@campaignforpostalbanking.org or can organize their co-workers and communities onto the national digital petition at http://www.campaignforpostalbanking.org/petition-to-pmg/.
"We're going to keep campaigning until the PMG and postal management get the message," said APWU President Mark Dimondstein. "The people of the country need an alternative to the payday lenders and the big Wall Street banks. Postal workers are ready, willing and eager to step up for the public we're proud to serve."
President Dimondstein Speaks about Postal Banking on The Working Life Podcast
President Mark Dimondstein appeared on the June 26 episode of writer and labor strategist Jonathan Tasini's The Working Life Podcast, discussing the Campaign for Postal Banking.
In the episode, titled "Episode 136: Dump Citibank for the Post Office; Stopping Violence & Harassment at Work," President Dimondstein discussed the need for pilot tests for services such as payroll check cashing, low-fee and nofee debit cards, ATMs, bill payments, and electronic money transfers – all of which the Postal Service has a right to offer under the law. He also touched on the need for these services in unbanked and underbanked rural communities.
"Postal banking, and all sorts of other enhanced services, should be part of any business plan the Postal Service does come up with," President Dimondstein said. "As we have pointed out, it's not called the United States Postal Business. It's called the United States Postal Service."
Tasini also spoke with Rep. Kaptur about the benefits of postal banking and her efforts to bring pilot tests of financial services to post offices in the Northeast Ohio area. To listen to the podcast, visit apwu.org/working-life. The episode is also available on Spotify, Apple Podcasts, Stitcher, and SoundCloud.
House of Representatives Advances Bipartisan Postal Banking Amendment
On June 25, the House of Representatives adopted an amendment backing the Postal Service's expanding its offering of postal financial services.
Introduced to a federal appropriations bill, the amendment expresses the House's support for the Postal Service exercising its existing statutory authority to offer a wider range of postal financial services. The Postal Service could, without a change in law, expand its money order services, allow customers to cash checks and pay bills at the post office, install ATMs, and expand and enhance wire transfer services. These services, which are a feature of other postal systems around the world, would greatly reduce the harm faced by nearly 90 million people across the country that lack adequate financial services today.
The amendment was moved by a bipartisan group of lawmakers, Democrats Bill Pascrell (NJ-9) and Ayanna Pressley (MA-7) and Republican Mark Amodei (NV-2).
Introducing the amendment on the House floor, Pascrell emphasized the reason for bipartisan agreement for expanded postal financial services: "Ninety percent of zip codes lacking a bank or credit union are in rural areas. Bank branches are also sparse in low income urban areas. Approximately 46 percent of Latino and 49 percent of African American households are underbanked," Rep. Pascrell said. "Think about that. Democrats and Republicans alike could derive enormous benefit for their constituents. Talk about uniting America!"
The Campaign for Postal Banking has worked closely with a number of congressional allies to build support on Capitol Hill for these services. Postal workers and other coalition allies have been organizing community support and petitioning the Postal Service to pilot expanded financial services. The amendment comes just weeks after northern Ohio residents, joined by their Congresswoman, Marcy Kaptur, called on the Postmaster General to pilot expanded services in their region. And it also comes just a year after the Campaign successfully defeated an appropriations amendment that would have prevented the Postal Service from piloting these projects.
The Campaign will continue to work with congressional allies to build support in Washington for expanded financial services and will also continue organizing in communities to educate and mobilize the public around postal banking.
Stay in touch with your union
Subscribe to receive important information from your union.