Addie L. Wyatt: Labor, Civil Rights Leader
Last year we bid farewell to an important advocate for justice for working families everywhere: The Rev. Addie L. Wyatt.
Though not widely known outside Chicago, the diminutive, African-American woman made important contributions that "helped open the way for redefining women's roles within the general labor movement," notes a tribute at the International Civil Rights Walk of Fame at the Martin Luther King Jr. National Historic Site in Atlanta.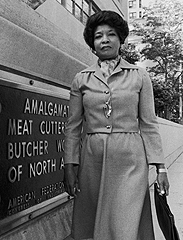 Born in Brookhaven MS in 1924, Addie Cameron started working full-time in 1941 — in an era when women and people of color were routinely discriminated against, on and off the job.
In 1930, during the Great Depression, her family moved to Chicago, seeking a better life. But there they found that greater opportunities were illusionary for most African-Americans: Work was scarce; pay was low, and housing was expensive. Her father toiled tirelessly when he found work, but the family was often unable to make ends meet and moved frequently. Addie, the oldest girl of eight children, had to care for her siblings when her parents found work.
Wyatt said the hardships her family endured forged her outlook and commitment. "It stayed in my mind that there was something that I had to do to make life better," she told the Working Women's History Project. She went to work at an early age because she "knew that change had to come if we were going to survive."
After attending high school, she married Charles Wyatt, a postal finance clerk, and had two children. At 17, the young mother joined the workforce full time.
She applied for a job as a typist at an Armour and Company meat packing plant. Though she passed the test and she was hired, when she showed up for work she was assigned to pack stew in a can: Armour didn't hire black people to work in its front offices, she was surprised to learn.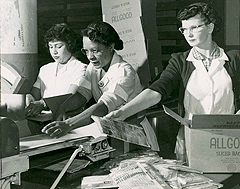 Wyatt accepted the canning job after learning that she would earn more working on the packinghouse floor in three days than she would have made in a week working as a typist — thanks to a contract between the company and United Packinghouse Workers of America.
She joined the UPWA after learning that the union did not discriminate and sought to represent all its members. While attending a UPWA conference in the early 1950's, Wyatt was pleased to find "blacks, whites, Spanish-speaking people, men and women, young and old meeting together, talking about their common problems," she recalled. The progressive, CIO affiliate encouraged women and African-American workers to take local leadership roles, so she recommended that her local find a woman to run for vice president.
Wyatt, who was also deeply involved in her church and community, was reluctant to seek the office herself, but UPWA members recognized her talents and elected her. Within months, the local's president had resigned, and she became the first black woman to hold senior office in an American labor union.
But when negotiating with management, Wyatt often found herself "fighting on three fronts," she recalled. "I was fighting on behalf of workers, fighting as a black, and fighting as a female."
Despite the challenges, under Wyatt's leadership the local remained united, was successful at the bargaining table, and fought for racial equality in Chicago and beyond.
In 1955, Wyatt became a full-time staff person for the UPWA, representing workers across a five-state region. Among other accomplishments, Wyatt and her union were able to win "equal pay for equal work" provisions in many union contracts well before the Equal Pay Act of 1963, notes a recent tribute by the United Food and Commercial Workers union, a successor of the UPWA.
Civil Rights, Women's Movement Work
With Wyatt playing an important role, the UPWA got involved in the Civil Rights movement. She helped raise funds to support the Montgomery Bus Boycott in 1956, and served as an advisor to the Southern Christian Leadership Conference.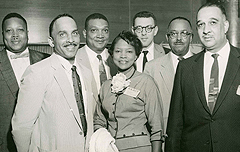 In the 1960s, Wyatt served as director of the Women's Affairs and Human Rights departments for the UPWA and for the Amalgamated Meat Cutters union (into which the UPWA merged, in 1968).
Wyatt's work drew the attention of former First Lady Eleanor Roosevelt, who headed the United States Commission on the Status of Women, formed by President John F. Kennedy in 1961. Roosevelt appointed Wyatt to the panel's Labor Legislation Committee. Wyatt's work helped lay the groundwork for passage of the Equal Pay Act of 1963, which was intended to reduce pay disparity between men and women.
Wyatt also helped take women's concerns outside of the workplace into the public arena. The president's commission had brought women leaders together, and the connections formed among them led to the formation of the National Organization for Women in 1966, the push for the Equal Rights Amendment during the 1970s, and other legislation that sought to eradicate gender discrimination.
Later in the 1960s Wyatt lent much her energy to the civil rights movement, organizing grassroots support in Chicago, participating in the historic marches on Washington and the historic march from Selma to Montgomery, AL with Dr. Martin Luther King. Wyatt was jailed in Selma for taking part in the voting rights protests in 1965. She later helped King organize the fair housing campaign in Chicago.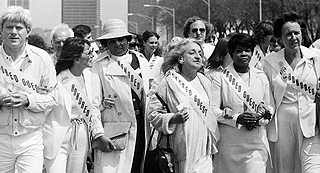 1970s
In the 1970s Wyatt focused on making the union movement more inclusive to minorities.
In 1972, she was a founding member of the Coalition of Black Trade Unionists, which was formed to ensure that black workers could "share in the power of the labor movement at every level." As chair of CBTU's National Women's Committee, Wyatt helped ensure that AFL-CIO-affiliated unions opened leadership positions to women.
Two years later, Wyatt also helped establish the Coalition of Labor Union Women, "to create a more effective voice for women in the labor movement."
She succeeded: In 1975, Time magazine honored her as one of its Women of the Year, for "speaking out effectively against sexual and racial discrimination in hiring, promotion and pay." Wyatt's picture appeared on the magazine's cover along with First Lady Betty Ford, tennis great Billie Jean King, and Rep. Barbara Jordan, one of the first black women elected to Congress.
In 1979, Wyatt became vice president of the United Food and Commercial Workers, making her the first African-American woman in a high-level leadership position of an international union.
Wyatt retired from full-time union work in 1984 to become a full-time minister at the Vernon Park Church of God, which she and her husband established in Chicago. She remained active in many community affairs — and was well known to a young community organizer she had counseled, Barack Obama, who called her a "champion of equality and a fierce advocate for working Americans."
Stay in touch with your union
Subscribe to receive important information from your union.