Another Successful BMC Conference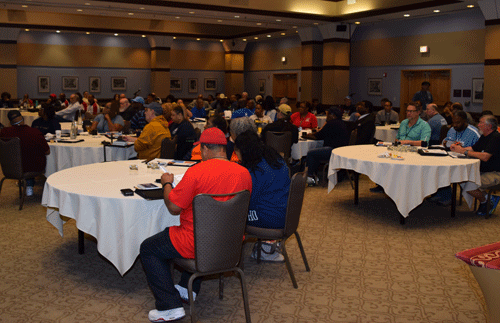 The Bulk Mail Center (BMC) Conference was hosted by the APWU National and the Nation's Capital Southern Maryland Area Local (WDC BMC) from April 30 through May 2, 2017. Ninety-two delegates attended, representing 18 of the 21 BMCs across the country.
Successful Agenda
On Monday, the first day of the conference, participants were welcomed by the Office of the Mayor of Washington, DC, DC Labor Council and Host Regional Coordinator Gallagher. After several hours of working through an agenda led by Foster and Burleson, the conference adjourned at midday to visit the Washington BMC on a chartered bus.
On Tuesday, Day 2 of the conference, President Dimondstein addressed the delegates and encouraged everyone to continue the fight. After finishing with the Clerk agenda items, Raymer, Balogun and Martinez moved ahead with the Maintenance agenda. The New Jersey International BMC Delegates also led a drive that resulted in $3,500 in COPA contributions.
2018 BMC Conference in Pittsburgh
The next BMC conference will be held in Pittsburgh, right after the conclusion of the 2018 National Convention. It was decided that the agenda items would be consolidated to one day, Friday Aug. 24, 2018. More information will be forthcoming, but participants who attend should plan to depart on Saturday.

Stay in touch with your union
Subscribe to receive important information from your union.