APWU and Mail Handlers Union Send a United Message to PMG Brennan Denouncing "Wholesale and Massive Job Cuts"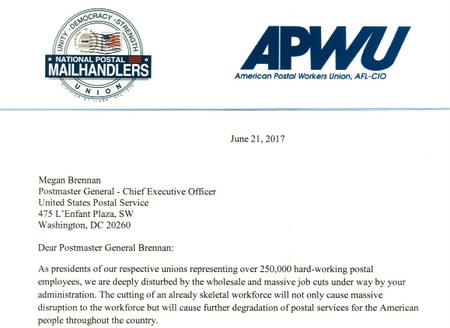 On June 21, the APWU and National Postal Mail Handlers Union (NPMHU) sent a joint letter to Postmaster General Megan Brennan chastising her administration's "wholesale and massive job cuts." APWU President Mark Dimondstein and NPMHU President Paul Hogrogian explained, "The cutting of an already skeletal workforce will not only cause massive disruption to the workforce but will cause further degradation of postal services for the American people throughout the country." 
The postal unions have drawn a line in the sand and are standing united against Postmaster Brennan's continuous "cost-saving" shortcuts – shortcuts that have greatly affected not only the bargaining-unit workforce but also mail processing, mail delivery, customer service and the reputation of the United States Postal Service. 
Although the APWU and NPMHU have separate collective bargaining agreements, this letter informs Postmaster Brennan that we stand together against her administration's wholesale job cuts and tactics that ignore and break management's obligations in our collective bargaining agreements:
"Without change, these management actions essentially throw any good faith efforts and constructive relationships to the wind. At a time when the parties have been working together to craft, promote, and pass constructive postal reform legislation, we wonder why the Postal Service would choose to declare war on its unions and its employees. Rest assured that, absent correction, the APWU and the NPMHU will together resist these misguided actions and violations of your agreements with, and commitments to, our members."
The letter concludes with an offer to meet and explore alternatives to the proposed massive cuts that will preserve service and jobs.  Click here to view the full letter. 
Stay in touch with your union
Subscribe to receive important information from your union.