APWU Joins Democracy Initiative
Five years ago the "Citizens United" Supreme Court ruling unleashed unlimited, and often secret, corporate cash into the political process and elections. Now just 158 families will contribute over 50 percent of the billions being spent on the 2016 presidential election cycle. Just two anti-union billionaire industrialists, the Koch brothers, announced that they plan to spend $900 million in the 2016 election cycle!
Our elections are literally being bought and sold.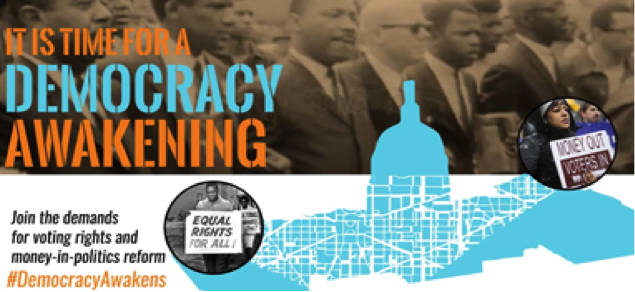 Concurrent with this development, voter suppression is on the rise, with an explosion of voter ID laws and other roadblocks to working people's ability to exercise our right to vote.
At our 2014 National APWU Convention resolutions were overwhelmingly passed calling for overturning Citizens United, getting money out of politics and defending the right to vote.
In order to help implement these resolutions, the APWU has joined the "Democracy Initiative," a network of over 60 national organizations that seek to restore our democracy. It was founded by the Communication Workers of America, NAACP, Common Cause, Sierra Club and Greenpeace. The many diverse organizations, from labor to environmental, civil rights to faith-based, all have come to the realization that none of our legislative goals will be reached if the corporations completely control our elected representatives. That is true for us as well, as we seek postal reform, fixing the pre-funding crisis, restoring service standards and getting a USPS Board of Governors that seek to build the institution, rather than destroy it. Many of the organizations in the Democracy Initiative are also part of the Grand Alliance to Save the Public Postal Service.
This spring the democracy movement is stepping it up with a national action dubbed "Democracy Awakening 2016."  Rise Up To Save Democracy will take place in Washington, DC, from April 16-18.  It will include teach-ins, protest, direct action, trainings and music.
You can get more information at DemocracyAwakening.org or you can TEXT RISEUP to 69866.
Stay in touch with your union
Subscribe to receive important information from your union.