APWU Joins Rally for Voting Rights Outside White House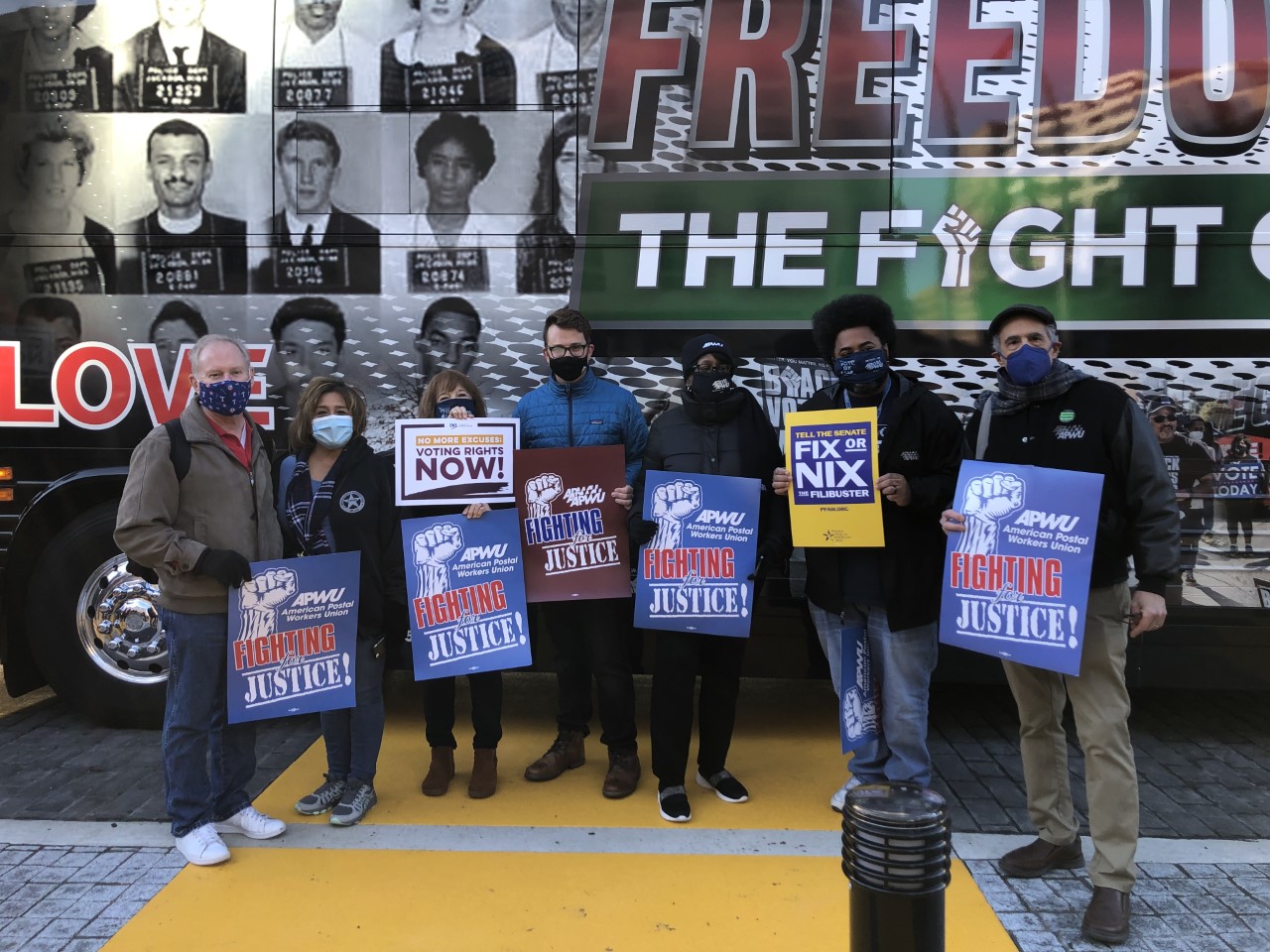 On November 3, President Mark Dimondstein, national officers, local leaders, members and staff from the APWU joined the League of Women Voters, People for the American Way, Black Voters Matter, the Democracy Initiative and other organizations, including other unions, in a rally outside the White House. The protestors called on President Biden to either "fix or nix" the Jim Crow-era filibuster in the Senate, and move swiftly to pass meaningful voting rights legislation. The filibuster allows a minority of members in the Senate to block needed legislation.  
The pressure on President Biden to pass a voting rights bill mounts. Eighteen states have enacted more than two dozen laws that will make it harder for people to vote in upcoming elections, with new restrictions on voting by mail, early voting and ballot drop boxes. 
"The fight to preserve and expand our democratic rights is one of the most important struggles facing the working class today. Our union was at the forefront of the fight to preserve voting rights in the last election, and will remain in that struggle until the democratic rights of all working people are preserved." said President Dimondstein.  
Presently, several major voting rights bills remain stalled in Congress, including the For the People Act, the Freedom to Vote Act, and the John Lewis Voting Rights Advancement Act. These bills would overturn most of the new state voter suppression laws, strengthen voting by mail protections, ensure expanded early voting, maximum access to mail ballots, and make registering to vote easier. 
"Whether right, left or center on the political spectrum, I am confident postal workers are united that politicians must not be allowed to pick voters. Voters should be choosing elected representatives," said President Dimondstein.  
APWU members and staff will continue to join weekly Wednesday demonstrations for voting rights outside the White House throughout the month of November, and are encouraging all members and supporters to sign a petition to the White House demanding the swift passage of major voting rights legislation.
Stay in touch with your union
Subscribe to receive important information from your union.