APWU Members Lead Washington Protest of DHL
More than 50 APWU members, community activists, and other representatives of the Ohio-based "Save The Jobs, Save Our Community" coalition staged a protest of DHL business practices Sept. 17 at the German Embassy in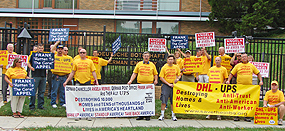 Washington.
The STJ coalition members were from Wilmington, in southern Ohio, where DHL is threatening to shut down its air delivery hub and eliminate more than 8,000 jobs. The restructuring threatens 9 out of 10 jobs at the site.
DHL has operated the hub since taking over Airborne Express in 2003, in a deal that many say was made possible by Rick Davis, Sen. John McCain's campaign manager; he also managed the candidate's presidential campaign in 2000.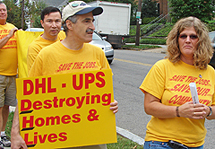 Davis and his lobbying firm were hired by the two companies more than five years ago to lobby Congress to approve of their merger. After building up the operation, DHL announced a restructuring plan last spring. In a more recent development, the company has been trying to transfer air delivery to UPS.
Following the morning protest, the House Transportation and Infrastructure committee held a hearing, with panel members examining the pending job loss and anti-trust implications. In testimony, Sen. Sherrod Brown (D-OH) told the committee that DHL has received "$400 million in direct and indirect incentives" to maintain its Wilmington operation and jobs.
"The past three-and-a-half months have been difficult for thousands of families in Ohio," Brown said. "Their futures are at a stake. If this deal goes through, jobs will be lost, homes will be lost and communities will face even more challenges. … The proposed UPS-DHL [deal] is an economic disaster."
An STJ coalition statement distributed at the hearing noted that "DHL received massive public tax incentives for the Wilmington hub with the corporate promise of jobs for the long run. Shame on DHL, a profitable global company, for turning its back on hard-working employees."
Also on Sept. 17, Sen. Barack Obama reiterated his call for a Justice Department investigation into the DHL proposal to shut down the Wilmington hub.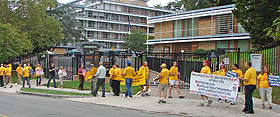 A large group of DHL workers has been trying to win APWU representation since 2005. The union has been stymied by various unfair labor practices, including strategies intended to delay organizing efforts until after UPS and DHL could merge.
The APWU has been at the forefront of the "Save The Jobs" coalition, which has the strong support of the Air Line Pilots Association. The coalition has staged numerous rallies and other events in Ohio, including the presentation of a petition, signed by 11,000 area residents, to DHL and senior government officials.
Stay in touch with your union
Subscribe to receive important information from your union.