Canadian Postal Workers Forced Back to Work, The Struggle Continues
In late October, our postal brothers and sisters in the Canadian Union of Postal Workers (CUPW) began rotating strikes across the country, their legal right under the Canadian Charter of Rights and Freedoms (part of the country's constitution). They struck for a better contract from Canada Post, the country's public mail operator.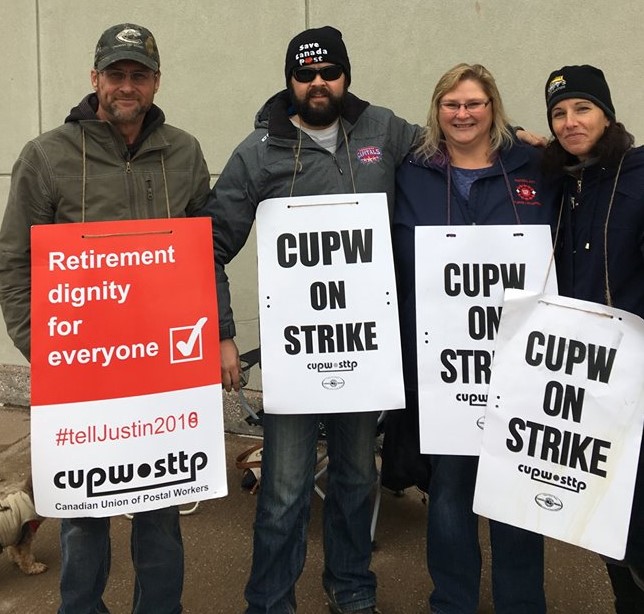 CUPW demanded that Canada Post address workplace injuries – which have increased 43 percent over the last two years due to rising parcel volumes – and stronger pay and benefits for Rural and Suburban Mail Carriers (RSMC), about 8,000 workers. CUPW also demanded the end to forced overtime, better job security, and stronger health and safety measures.
The union rotated locations of the strikes, so as not to completely disrupt mail service to the Canadian public. The strikes were so effective that, the ruling Liberal party – whose lawmakers claimed to be champions for labor in the country's elections – pushed through Bill C-89, a "back-to-work" piece of legislation, forcing an end to CUPW's strikes and a return to work under the conditions of the old collective bargaining agreement. Members of Canada's New Democratic Party (NDP) stood by the workers, while Liberal and Conservative legislators forced them back to work. A similar bill passed in 2011 by the Conservative government was later found unconstitutional by the Ontario Superior Court of Justice.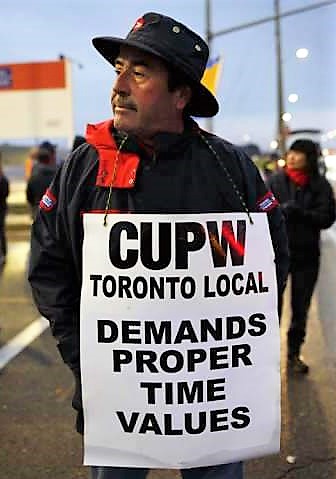 Returning to work under the old agreement for the grueling holiday season forced postal workers to face the continuing problems they were addressing through collective bargaining and job actions -- thousands of hours of forced overtime for urban postal workers, and over 250,000 combined hours without pay for Rural and Suburban Mail Carriers (RSMC).
Though the 37-day strike was forced to end, CUPW's fight is far from over. The union and Canada Post first went into mediation, which ended without an agreement. CUPW's struggle now heads into arbitration, beginning this January. "All options remain on the table to achieve negotiated collective agreements that address health and safety, equitable treatment, fair wages and working conditions, and the democratic right to free collective bargaining," said CUPW President Mike Palecek.
Union Workers Man Postal Picket Lines in Solidarity
While CUPW members cannot currently legally engage in strikes, fellow unions stepped up in protest, creating picket lines allowing postal workers in to processing plants but slowing the flow of mail out of facilities.
"You cannot legislate labour peace. We are not the only ones willing to defend the right of free collective bargaining," says Palecek. "If the Trudeau government thought that passing this legislation would end the dispute, they've made a mistake."
"The American Postal Workers Union continues to extend a firm commitment of international union solidarity with the Canadian Union of Postal Workers, as they remain vigilant in their fight against unfair and unsafe working conditions," said President Mark Dimondstein. "APWU stands with our postal brothers and sisters as they continue the fight against this unconstitutional law."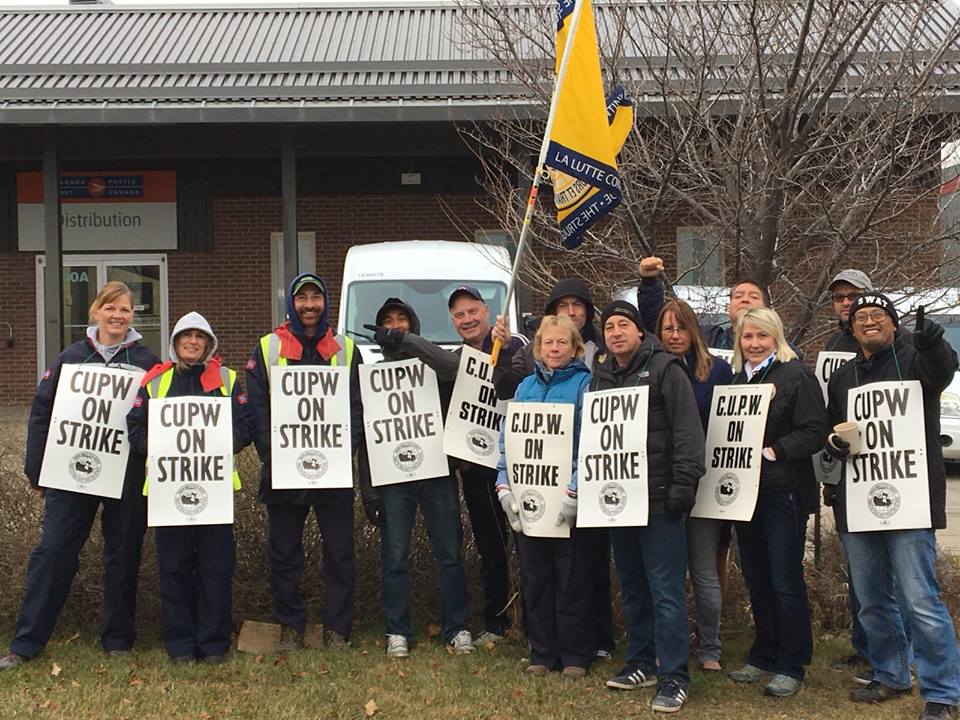 Stay in touch with your union
Subscribe to receive important information from your union.