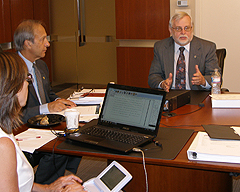 Arbitrator Shyam Das has closed the record of an arbitration hearing regarding the number of hours postmasters in small offices may work.
A Memorandum of Understanding in the 2010-2015 Collective Bargaining Agreement places strict limits on the number of hours postmasters may work in Level 15, 16, 18 and 20 post offices.
The Memo says, "All time the supervisor or postmaster spends staffing the window during the day will be counted towards the permissible bargaining unit work limits." Despite this clear language, the USPS is arguing that management must only count "earned time" as described in a unilaterally created work measurement system.
In addition, in spite of language that states that "any office downgraded in level will remain at the bargaining unit work standard that is in place at the beginning of the Agreement," the management claims an exception for DUO (Delivery Unit Optimization) offices. The union's grievance on the subject was heard on June 26-27, 2012, but the arbitrator kept the record open for 30 days. Briefs will now be filed and a decision will follow.
Stay in touch with your union
Subscribe to receive important information from your union.