Celebrating an Important 50th Anniversary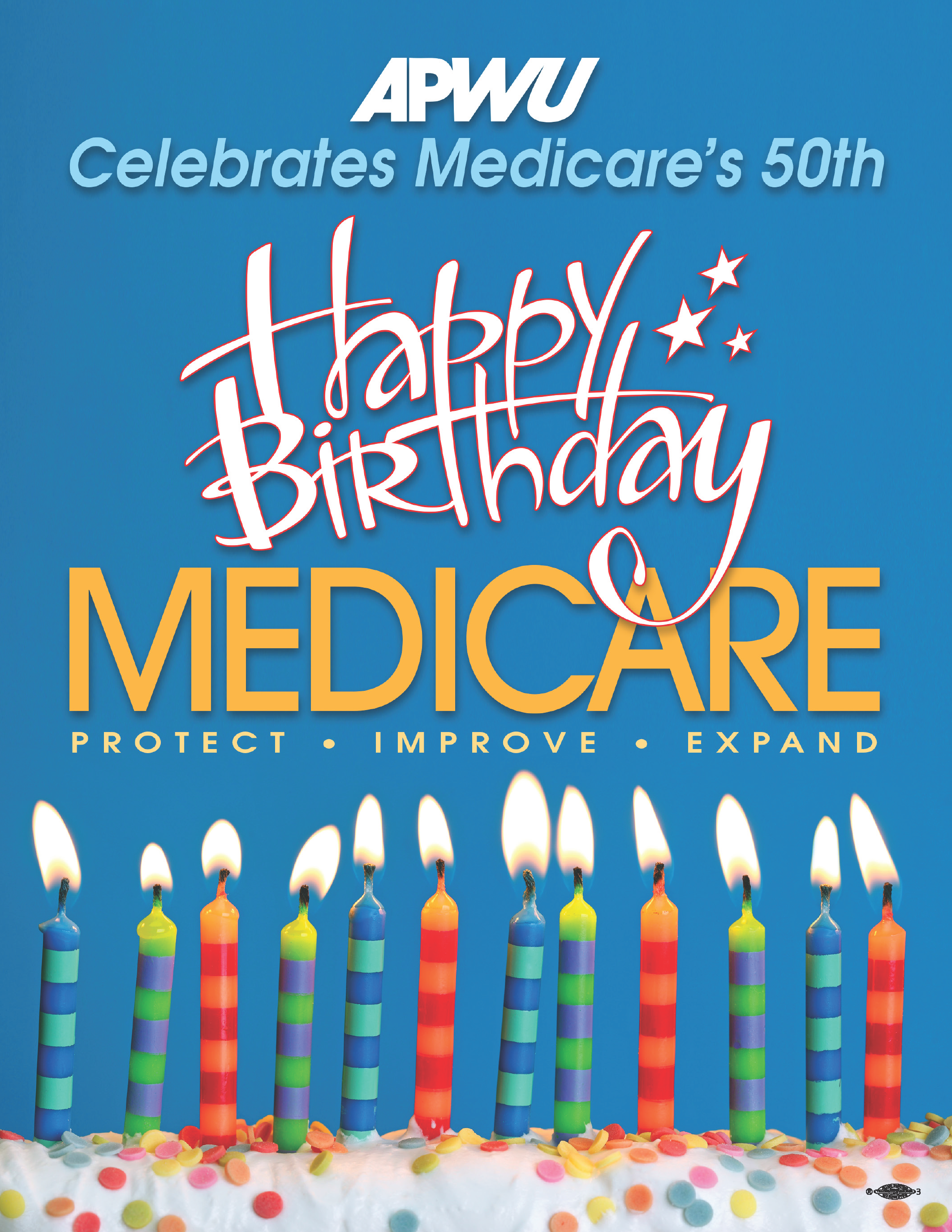 On July 30 – the 50th anniversary of Medicare – APWU members will join with others across the country to celebrate the program that has helped more than 53 million seniors and disabled Americans obtain healthcare.
"It is important to commemorate Medicare's 50th birthday, because this great program is constantly under attack," said APWU President Mark Dimondstein. "And expanding Medicare is one way to win public-option healthcare for all Americans," he said.
The anniversary will be marked with birthday cakes, rallies, and speakers, including members of Congress who are fighting to protect the program.
50 Percent
Before Medicare was signed into law by President Lyndon B. Johnson in 1965, 50 percent of older Americans had no health insurance. Today, that number has been reduced to approximately 2 percent.
Medicare, which covers medical expenses, hospital stays, prescription drugs, and hospital visits, is the most efficient healthcare system in the U.S., with administrative costs averaging just 2 percent of program outlays.
"I urge our locals, state organizations, retiree chapters, and auxiliary chapters to participate in events in your areas celebrating this important program," Dimondstein said. The APWU has partnered with the Alliance for Retired Americans and National Nurses United to sponsor events across the country. Other labor unions, seniors' organizations, church groups and community organizations will also participate.
Find an Event
To find an event in your area, visit www.medicare50th.org/#!/events or www.medicareturns50.org/events.html. To download a flyer to distribute on the work floor and take to events, click here. Sample op-ed columns and background information can be downloaded here.
"Please be sure to take pictures," said Retiree Director Judy Beard. "Show that the APWU stands strong with our brothers and sisters to make sure Medicare continues."
Beard and 40 other APWU retirees recently attended the Alliance for Retired Americans Legislative Conference in Washington, DC, where approximately 400 retirees met with members of Congress to stress the importance of supporting Medicare. They also urged legislators to support House Resolution 54, which would to restore postal service standards.
Some of the conference attendees expressed well-wishes and appreciation for Medicare.
Stay in touch with your union
Subscribe to receive important information from your union.