(This article first appeared in the Sept-Oct 2017 issue of the American Postal Worker magazine)
By Executive Vice President Debby Szeredy
As the APWU gears up for negotiations and continues to address service cuts and proposed staffing reductions, excessing and reassignments, you and I need to be engaged not only with our coworkers, but with our families, friends, allies and communities.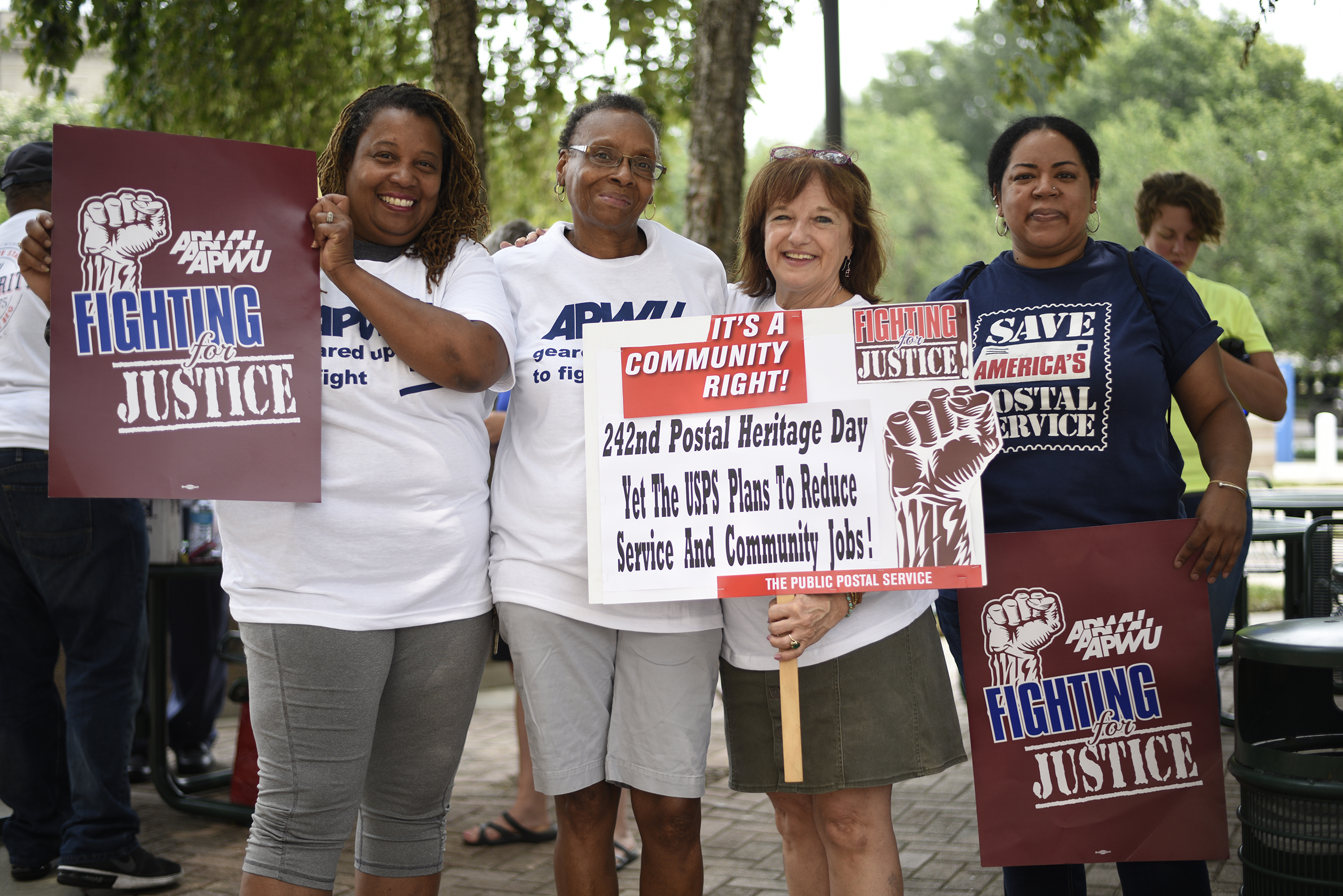 Positive change comes through solidarity – with our friends and allies standing up and fighting for a vibrant Postal Service. Arguing our disputes in the grievance-arbitration procedure, courts, National Labor Relations Board (NLRB), etc., is important, but does not compare with joining hands and moving into the public square. Real progress is made when communities act.
Protecting the well-being of all is the kind of engagement that is meaningful and just. We cannot achieve that goal if we are in a community filled with minimum wage and little-to-no benefit jobs. Postal compensation is compared with private sector compensation. The fewer good jobs in the community, the harder salaries and working conditions are to maintain, let alone improve upon. We have a lot of work to do if we want to have strong communities with affordable housing, good schools and children who have hope in a great future.
Hostile Management
As the work environment at the post office changes for the worse, the balance of power shifts even further away from the worker. One employee is doing the work of two or three, and we are losing full-time jobs.
We just won the Stop Staples battle, halting the privatization of retail, not in the grievance procedure or the NLRB (although we used these forums), but in the streets with community allies. The Staples campaign was just one battle in our fight to protect service and jobs. We cannot relax and rest on our laurels.
Management recently initiated plans to abolish jobs held by current workers, as well as reverting jobs that members could bid out or retire from. The pressure and workload continues to increase, with no end in sight. Understaffing is a chronic issue. Plants are over-crowded, leading to health and safety issues and delayed mail.
Postal Support Employees (PSEs) have an almost 37 percent turnover rate. Many say they are overworked and experience a hostile work environment. The USPS continues to defend abusive managers, simply moving them from facility to facility, while new workers quit.
If you are fed up with how management is treating you and your co-workers, do not give up. Join with your coworkers. Raise the issues with your family, friends, political and community leaders. It takes you to improve the work environment and provide excellent service to our communities. Contact your local now. Find out how you can be a part of the APWU's resistance against these attacks. You can make a difference.
Stay in touch with your union
Subscribe to receive important information from your union.