Congress Must Save Postal Service
USPS Plan Would Hurt Service, Workers, Communities
Testifying before a Senate panel on Sept. 6, APWU President Cliff Guffey urged Congress to take action to prevent a collapse of the Postal Service, and he denounced USPS proposals to abrogate the union's Collective Bargaining Agreement.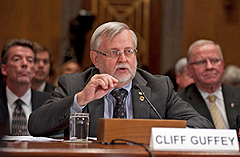 "The Postal Service needs access to the overpayments it has made to retirement programs," Guffey told the Senate Homeland Security and Governmental Affairs Committee.
[full testimony]
The agency also needs relief from the requirement that it pre-fund its retiree healthcare benefits, he said. "No other federal agency is required to pre-fund its health benefits obligation, and very few private-sector firms do so," he pointed out.
Outrageous, Illegal, Despicable
Guffey condemned USPS legislative proposals to give management  authority to lay off 120,000 workers and to remove postal employees from federal retirement and health insurance programs, calling them "outrageous, illegal and despicable."
The contract was signed less than four months ago, Guffey noted, and the APWU made compromises in order to keep retirement and health insurance benefits and to retain protection against layoffs for career employees. Yet the Postal Service is now seeking to circumvent the agreement by asking Congress to enact legislation overiding what the USPS and APWU negotiated, he said.
"The attempt by the Postal Service to keep what it gained from our bargain and to unilaterally abrogate what the APWU gained is in utter disregard for the legal requirement to bargain with the APWU in good faith," he said.
"The APWU will oppose with every resource at our disposal any effort to destroy our health benefits program, to lay us off and replace us with temporary workers or to undermine our retirement," Guffey said.
More Damaging in the Long Run
USPS proposals to cut jobs and slash service would damage the Postal Service in the long run, the union president said.  The proposed cuts include the closure of thousands of post offices, stations, and branches, and "rapid and extreme consolidation" of mail processing facilities. These changes would weaken the Postal Service and exacerbate its revenue problems, Guffey said. 
The savings that could be realized by closing thousands of post offices, for example, would be less than one percent of postal costs, he pointed out.
The loss of jobs, the loss of a community focal point and identity, and the loss of service caused by the post office closings would have a far more damaging impact, Guffey said.
"For many communities, the Post Office is where the flag flies.  It is the face of the government to the people," he said. 
Also testifying were: USPS Postmaster General Patrick R. Donahoe; U.S. Office of Personnel Management Director John Berry; U.S. Government Accountability Office Director of Physical Infrastructure Issues Phillip R. Herr; Thomas D. Levy, Senior Vice President and Chief Actuary of the Segal Company; National Association of Postal Supervisors President Louis M. Atkins; Hearst Magazines Editorial Director Ellen Levine; and National Newspaper Association Director of Public Policy Tonda F. Rush.
APWU members are encouraged to contact their legislators and urge them to support bills to correct the USPS financial crisis. "We must make legislative action a priority," Guffey said. For more information, visit www.apwu.org. Contact Your Legislators.
Stay in touch with your union
Subscribe to receive important information from your union.