COVID-19 Vaccine Information
(This article first appeared in the January/February 2021 issue of the American Postal Worker magazine)
The COVID-19 pandemic has had a profound effect on all members of the APWU. Our families, our work, and essentially all aspects of our lives have been impacted. COVID-19 is a serious, life-threatening disease. One out of every 1,000 people in the United States died from COVID-19 during 2020. COVID-19 has infected more than 20 million people in the United States. This disease continues to pose a grave threat. Vaccinating is the most effective way to build protection against this disease. As frontline, essential workers, vaccines will be available to APWU members, on a voluntary basis, in the near future. When enough people receive the vaccine in the population, we will see the spread of the disease slow significantly. This will provide us all with the ability to resume activities with others in our communities when the spread has reduced.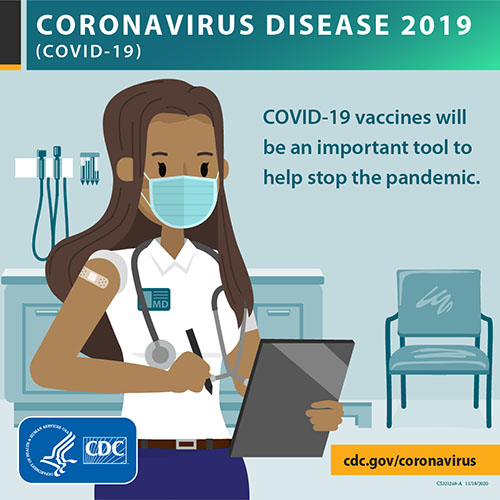 As this issue goes to press, there are currently two vaccines approved for use in the United States, the Pfizer and Moderna COVID-19 vaccines, and both are over 90% effective. That means they will prevent over 90% of people from developing symptomatic COVID-19. If you receive the vaccine and are in the small percentage of people who still contract coronavirus, either one of the vaccines will minimize the severity of your symptoms.
Rigorous oversight over the research, development, and clinical trials ensures that all vaccines are as safe as possible. The safety of these vaccines will continue to be monitored as they are administered throughout the country. Depending on the specific vaccine that you receive, a second shot 3-4 weeks after your first shot is needed to provide the most protection.
If you have questions or concerns about specific health issues that may affect your ability to receive a vaccine, talk to your doctor or a health care professional.
The APWU and the USPS are in agreement that the vaccine will not be a condition of employment and is therefore voluntary. We recognize that such decisions are personal choices and we encourage members to make them in consultation with their family medical professional.
APWU Advocates for Prioritization of Postal Workers in National COVID-19 Vaccination Plan
On January 20, following the inauguration of Joe Biden as the 46th President of the United States, the APWU got to work pushing for the new administration to prioritize postal workers in its national COVID-19 vaccination policy. In a letter to the administration, President Dimondstein advocated for postal workers to be recognized as frontline workers in the national vaccine rollout.
Stay in touch with your union
Subscribe to receive important information from your union.