Don't Sell Out Veterans by Selling Off the Postal Service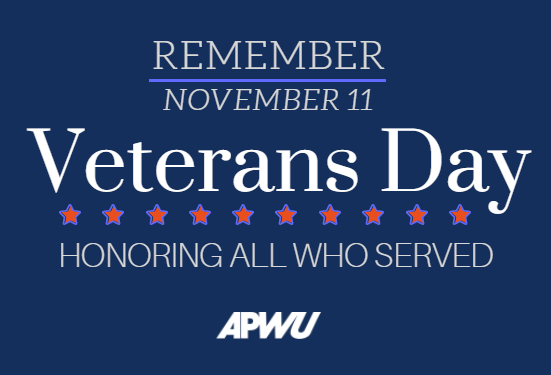 Today we join in honoring our veterans, including the tens of thousands of APWU members, both active and retired, who are currently or have proudly served. One important way to honor our them is to ensure they have access to the good jobs, opportunities and services they need. 
Veterans at the USPS earn fair union wages and benefits, providing them opportunity for good family-sustaining jobs. The USPS is the second highest employer of veterans, behind only the Department of Defense.
Veterans also rely on the USPS for prescription drug delivery and other services, too.
But all this would radically change if the White House proposal to sell off the USPS to corporations becomes a reality. 
Stand up for veterans – and all the people of this country – by defending the U.S. Postal Service. 
Stay in touch with your union
Subscribe to receive important information from your union.