The Fight for the Right to Vote Rages On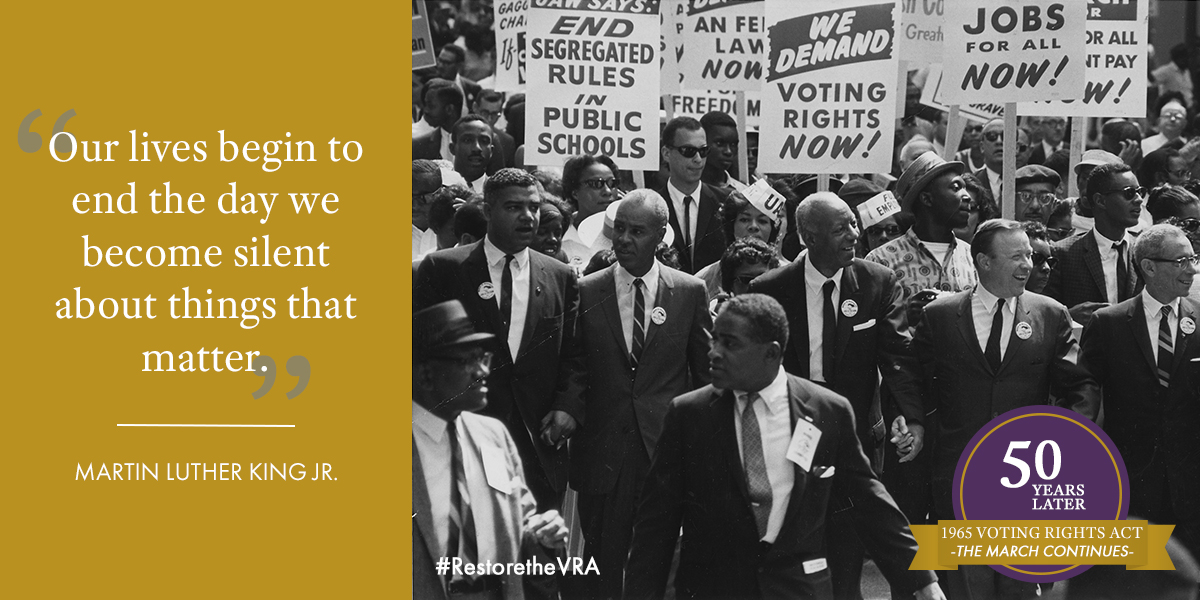 On Aug. 6, the APWU will join with others across the country to celebrate the 50th anniversary of the Voting Rights Act, and rededicate ourselves to the fight to protect the right to vote. 
APWU President Mark Dimondstein is urging locals and state organizations to participate in a National Day of Action on Aug. 6 to commemorate the historic occasion and to highlight the need to restore the voting rights of our nation's citizens.  Locals are being asked to post notices on their websites, Facebook and Twitter, send messages to their email lists, and encourage union members to spread the word. Samples were provided by Democracy Initiative, which is organizing the observance of the anniversary.
The Voting Rights Act of 1965 is considered one of the most far-reaching and effective pieces of civil rights legislation in U.S. history. It prohibited voter discrimination and established a mechanism to enforce the voting rights guaranteed by the U.S. Constitution. It banned literacy tests, provided for federal oversight of voter registration in areas where large segments of the minority population were not registered, authorized the U.S. Attorney General to investigate the use of poll taxes in state and local elections, and required bilingual ballots and election materials.  
Since it became law, Congress has renewed the Voting Rights Act, expanded its protections, and reauthorized enforcement provisions five times with bipartisan votes.
Supreme Court Strikes It Down
In 2013, in a ruling known as Shelby v. Holder, the Supreme Court effectively struck at the heart of the Voting Rights Act. The decision permitted states with a history of racial discrimination to change their election laws without advance federal approval (known as "precertification"). The decision weakened the law, paving the way for states across the country to pass laws that place significant restrictions on eligible voters who are trying to exercise their most fundamental constitutional right.  
Just one year after the ruling, 22 states enacted new laws making it harder to vote – particularly for African-Americans, the elderly, women, students, and people with disabilities. Measures include restrictions on early voting, the implementation of arbitrary voter ID requirements, and purging voter rolls.
Human Relations Director Sue Carney is encouraging members to participate in the anniversary observance by contacting members of Congress and asking them to support the Voting Rights Advancement Act. "We must ban together to educate all citizens in our communities about their voting rights and work together to help every person overcome the impediments that have been imposed upon their right to vote," Carney said.
"The national election is right around the bend. It is time to take action. We must prepare now to ensure every voice is heard." 
Stay in touch with your union
Subscribe to receive important information from your union.