Fired Up and Ready to Go!
(This article first appeared in the September/October 2018 issue of the American Postal Worker magazine)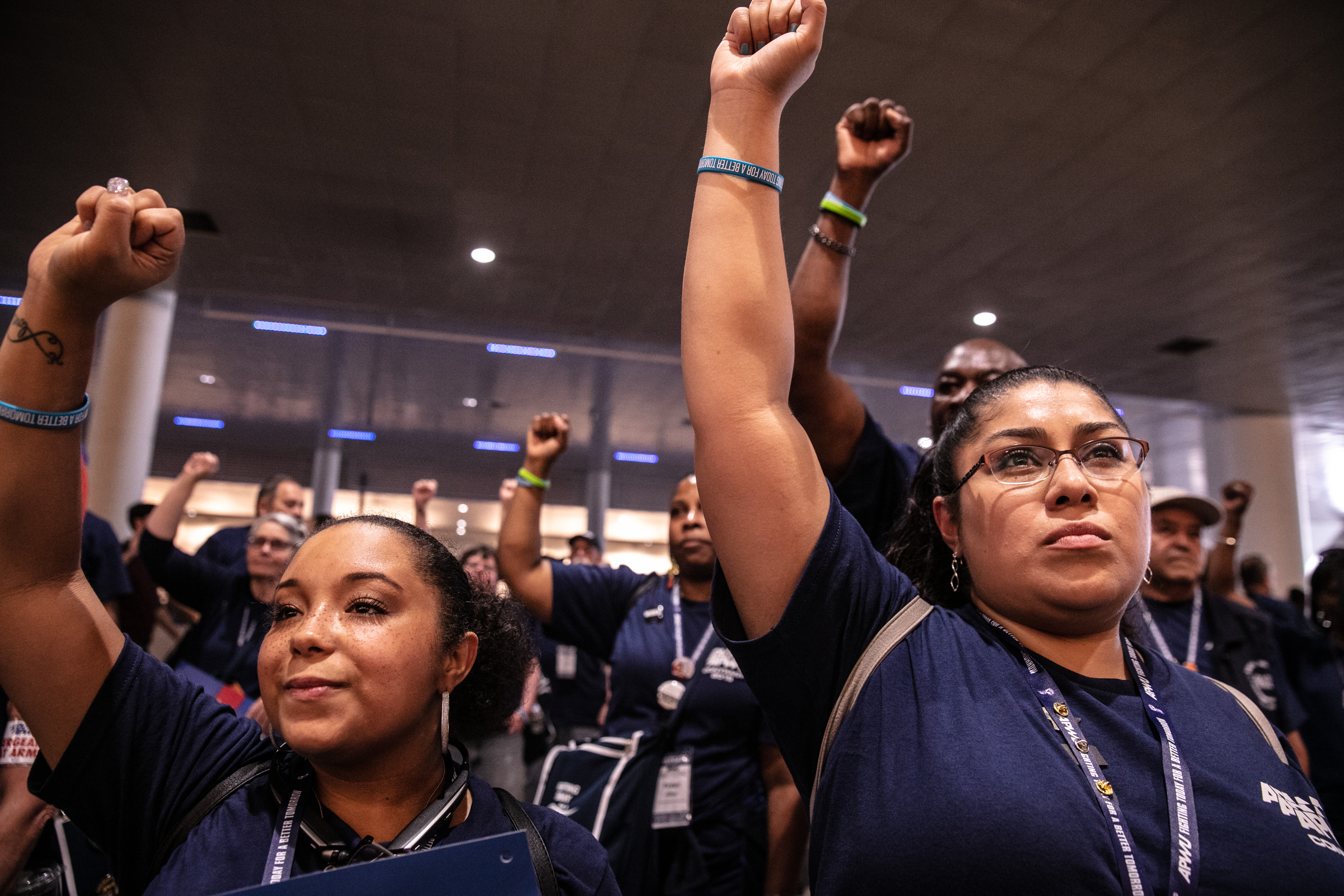 During the 24th Biennial National Convention and pre-convention meetings, The American Postal Worker spoke with some of the dozens of young members in attendance. We asked the new APWU leaders about their experiences as postal employees, APWU members and, if applicable, local representatives.
"Being a young worker, and holding the title PSE [Postal Support Employee], management tries to treat us as 'second rate'. They tend to assume we aren't knowledgeable and that we aren't aware of our contractual rights," said Eveyana Cortez, New York Metro Area Local Shop Steward. "There's a lack of respect from management that we as young workers face... I initially joined the union because I knew they are the defense line between the employee and management."
"I decided to be a shop steward about two or three months after starting work," said Luis Soto, Puerto Rico Area Local Eastern Area Vice President. Soto felt compelled to fight back against the "abuses that management perpetrated against my fellow co-workers, regular employees, another PSE – and against me."
"My first year as a postal worker, I had no idea about the union," said former PSE and current Amarillo Local (Texas) Secretary Angela Ramos. "I started asking questions because PSEs were getting used and abused." Ramos met Mary Guzman, Amarillo Local Clerk Craft Director, who educated her on labor rights. Mary taught her that as a union steward she is management's equal and not to be messed with.
Not all the young members experienced first-hand abuse. Some were tapped by seasoned leaders who saw a quality in them.
"I was approached by our former union vice president," Marnel Desir, Clerk Craft Director of Rapid Area Local (Iowa), explained. "I originally joined the union in orientation because for me it was a no brainer, join a team that will help protect me and my fellow coworkers."
"When I got hired, our local president Bill Villa told us really how everything works," said Ernie Sandoval, Clerk Craft Director of the Santa Barbara SCF Area Local (California), "I signed up right away. He always represents the union and has been a great mentor. I still go to him if I'm unsure of something but I like the learning and the fight. It's important to stand up when you know something is wrong."
Tri-county Ohio Area Local steward, first-time delegate, newlywed and new mom, Samantha Menshouse said she is accustomed to handling multiple issues at once, but her union is always there for support. "It can get very stressful – nobody really understands how much work there really is until you get in there," said Menshouse. "I really enjoy being a steward and I like helping. It gets very busy and hectic, but I get a lot of support from my union family."
APWU's young leaders are strong and outspoken. They are ready to take what they learned at our national convention to empower their peers and step up as the next generation as we all continue Fighting Today for a Better Tomorrow. ■
Stay in touch with your union
Subscribe to receive important information from your union.