House Passes New Stimulus Bill- Postal Funding Included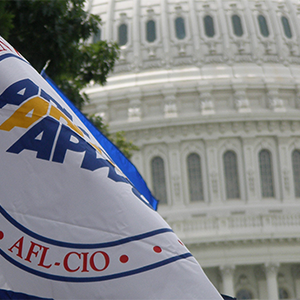 On May 15th, the House of Representatives passed the fifth COVID-19 response package.  The 1815 page Health and Economic Recovery Omnibus Emergency Solutions (HEROES) Act (H.R. 6800) provides some resources to lessen the impact of COVID-19 including direct stimulus payments to Americans, aid for state and local governments, and emergency appropriations for the Postal Service. 
"There is a big, bold movement taking place across rural and urban American to make sure postal funding is included in the next stimulus," said APWU President Mark Dimondstein.  "Postal workers and our labor/community allies have come together to protect this national treasure and ensure it can continue to serve the country in both good times and times of crisis."
The postal provisions in the House legislation will need to be passed by the Senate before it goes to the White House to be signed into law.
A snapshot of postal provisions in the House bill, include:
An emergency $25 billion appropriation for lost revenue due to COVID-19


This emergency appropriation will ensure that USPS has the financial resources to continue serving the nation thru the end of the year and beyond.

Ensures that USPS has access to the $10 billion line of credit with no strings attached;
Provides postal and other essential frontline workers the hazard pay they deserve.
Protects the democratic process by ensuring that every voter can access no­-excuse absentee vote­-by­-mail in the upcoming election, and every federal election thereafter.
"We are encouraged to see that postal funding was included in this House legislation," said Legislative and Political Director Judy Beard.  "Our focus must now turn to the Senate where we will continue to educate Senators on the importance of the Postal Service and its' essential workers who are on the frontline of this crisis each and every day." 
Senators need to keep hearing from our members about the role the Postal Service is playing during this crisis and its' ongoing value to the American people. 
Call your Senators today and tell them to adopt postal funding as passed in the House!  Call 844-402-1001 to be connected. 
On a broader front, we will continue to support our brothers and sisters in the labor movement and beyond in the fight to obtain adequate health and safety measures and economic justice. 
Call your Senators
Enter Your Information and click to Call Your Senators Now
The Postal Service is in a crisis, caused by the Coronavirus, and Congress needs to act, urgently.
The Coronavirus shutdown is plummeting postal revenues while increasing costs. The Postal Service could run out of money by the end of the summer and the Trump administration is trying to leverage the crisis to sacrifice our public Postal Service at the altar of private profit.
Call your Senators urgently. Tell them to support stimulus funding for our public Postal Service.
Stay in touch with your union
Subscribe to receive important information from your union.