Huge Victory for West Virginia Education Workers
After Nine Day Strike, Workers Win All their Demands Including a Pay Raise, a Freeze on Any Health Insurance Premium Increase and Governor Veto of Anti-Worker Legislation
It was an inspirational show of solidarity. Education workers across all 55 counties in West Virginia – about 34,000 workers in total – said 'enough is enough.' Members of the American Federation of Teachers - West Virginia (AFT-West Virginia), the West Virginia Education Association (WVEA), and the West Virginia School Service Personnel Association (WVSSPA) went out on strike from Feb. 22 – Mar. 6. Together, they were victorious.
West Virginia teachers were the 48th lowest paid in the country, with starting salary of just $33,000 – and there are nearly 700 vacancies across the state. The workers' health insurance premiums were slated to increase.
Among the strikers' demands were a pay raise and a remedy to health insurance issues. They also wanted to stop an expansion of charter schools in the state, maintain seniority, and opposed a paycheck "protection" bill (which would weaken unions by stopping payroll dues deduction). 
The final settlement (approved by the state's legislature on Mar. 6) included an immediate 5% pay raise, a freeze on the insurance premium increase, and a promise by Governor Jim Justice to veto all anti-worker legislation. The workers also secured the creation of a task force on the state's health care plan, with a seat at the table for each of the three striking unions.
The strike was reminiscent of postal workers' own strike. "In the 1970 postal strike, militant postal workers carried out similar unlawful but needed job actions," said President Mark Dimondstein. "These too were propelled from the 'rank and file.' The most important event of our postal labor history laid the basis for the many subsequent gains in our union contracts and postal workers' rights and benefits."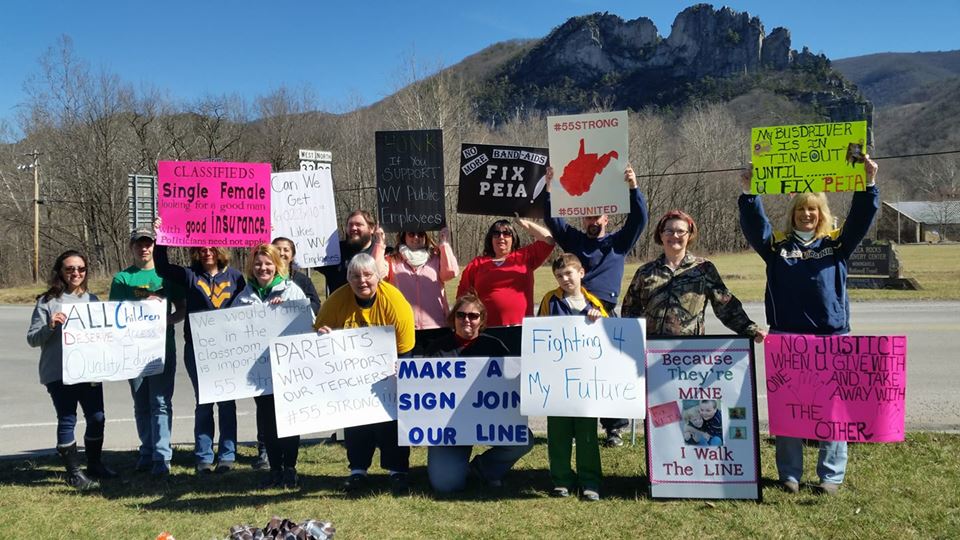 Unions United
For the workers, it did not matter what union they belonged to, be it the NEA, AFT, or WVSSPA, or what job they performed, whether it was teacher, bus driver, cafeteria worker, custodian or clerical worker. They went on strike together.
The hashtags #55United and #55Strong spread on social media like wildfire, highlighting that the strike included every county in the state. Education in West Virginia was on hold until the state government heard and met with the strikers.
Cody Thompson, a social studies and civics teacher at Elkins High School in Elkins, WV, told the Associated Press, "We feel like we're under attack constantly. Eventually whenever you're pushed into a corner, you've got to push back."
Student and Community Support
Another factor in the workers' success was the tremendous support from students, parents, community groups, and even school superintendents.
The day before the strike, thousands of students across the state held a "purple-out," wearing purple to symbolize the combination of red and blue – the two teachers unions' colors. A group of students at Capitol High School in Charleston told CNN that they started the hashtag #SecureOurFuture and also penned an open letter to the state.
"Public servants deserve more, and if we want hardworking, dedicated, and talented teachers to stay in West Virginia, we must compensate them competitively," the students wrote. Thousands of students joined their teachers on the picket line and at the protests in front of the West Virginia Capitol building.
Many parents of the more than 277,000 students were inconvenienced, having to find child care options while schools were closed, but they directed their frustrations at the state officials, not the workers. "To me, a 5% raise is the least we can do," said Lynn Swann, a parent of a high school student.
Because the strike also had the support of the school superintendents, all the workers continued to receive pay. This meant that everything collected for the West Virginia Teachers' Strike Relief went toward feeding students who depended on school breakfasts and lunches.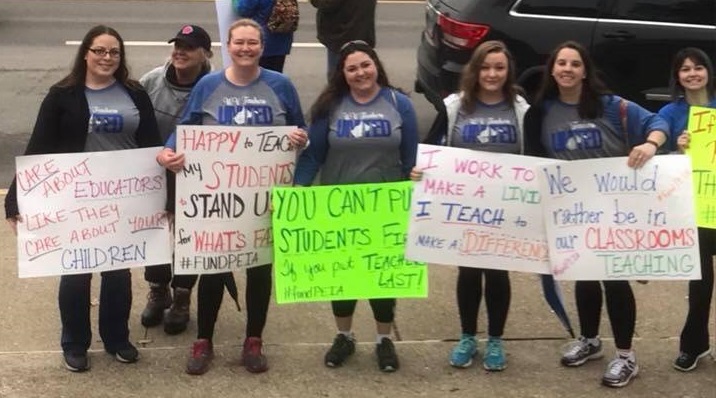 Solidarity Won the Day
The strike was mobilized at the grassroots level – a truly 'bottom up' action. Together, the workers stood up for their rights 'in the streets.' They took huge risks, putting themselves in each other's hands, and did not listen to any voices telling them to 'play it safe.'  
The workers' actions have also inspired educators throughout the country. Right now, teachers in Kentucky, Arizona and Oklahoma are publicly demanding that their state legislators address their frustrations over pay and benefits.
The strike's success shows how "workers can force whichever political wing of corporate power holds the reins to respond to workers' union action," said President Dimondstein. "Workers can build power when we mobilize and take ownership of our unions – and fight for our own destiny."
"I am so proud of West Virginia's education employees," said West Virginia Education Association President Dale Lee. "Without them, [the] agreement would not have happened. They stood in solidarity – 55 strong – and each day it was clear their resolve grew stronger."
"It feels good right now," said Christine Campbell, president of American Federation of Teachers (AFT) West Virginia. "This has been a really long process, but an energizing process."
National Education Association (NEA) President Lily Eskelsen García praised the way workers "stood in solidarity and made their voices heard to demand recognition of their professionalism and dignity."
 "That victory is a testament to the voice and determination, the resilience and compassion, and the collective power and organizing of the educators of this state," AFT President Randi Weingarten said.
"We got a freeze on [the health care increase] and a seat at the table. We got a pay raise for ourselves and all other state workers," wrote AFT member Greg Cruey on Twitter. "We beat down bad bills. We got respect and self-respect and found ourselves. Teachers won. Labor won. West Virginia won."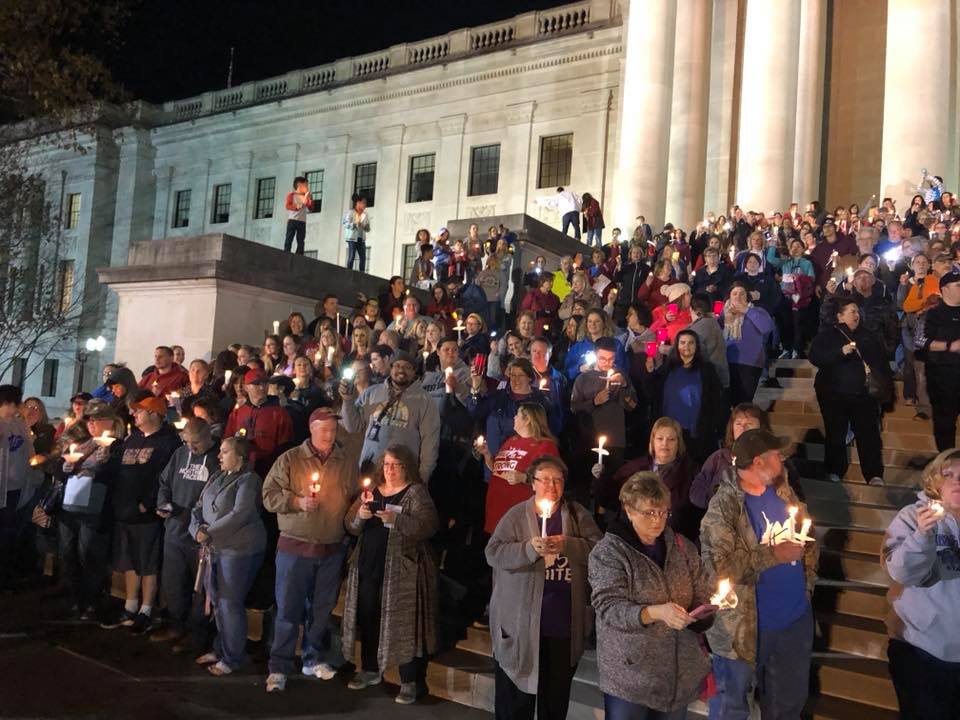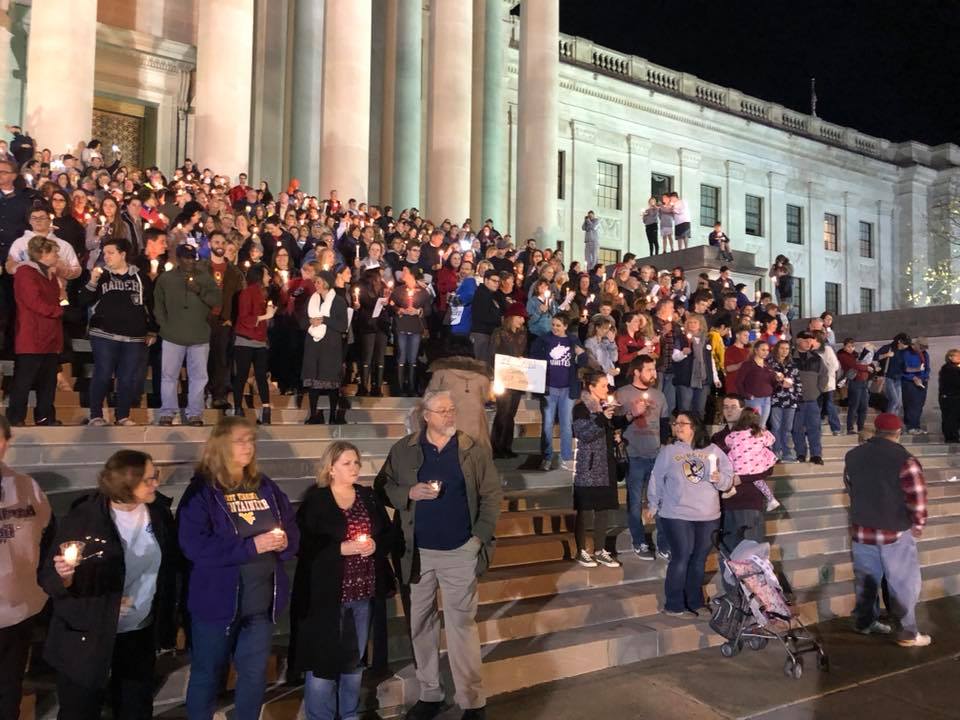 Stay in touch with your union
Subscribe to receive important information from your union.