Kids Camp: Where the Impossible Becomes Possible
(This article appeared in the November-December 2013 edition of The American Postal Worker.)
Sue Carney, Director Human Relations
It's been a little more than two years since we first introduced you to the Wounded Warrior Amputee Softball Team. All of the players made sacrifices on the battlefield, and as a team they have inspired thousands with their grit on the ball field.
But these courageous and talented young heroes were determined to give even more. So in June the APWU stepped up to the plate to help the team make the first Wounded Warriors Amputee Softball Team Kids Camp become a reality. We hope it will be the first of many.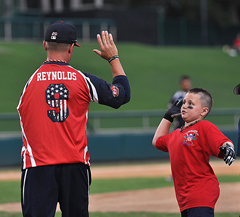 For 20 boys and girls ages 8-12 who were born missing a limb or who suffered an amputation, Kids Camp proved to be more than fun. It tested their limits and helped build their confidence. Kids Camp was a life-changing experience, where enduring friendships were forged and irreplaceable memories were created.
Each child and a parent were treated to a week long, all-expenses paid trip to Disney World. Margaritaville rolled out the red carpet, welcoming participants to Orlando with a festive night at the restaurant. The kids practiced at the ESPN Zone each day until noon, learning how to hit, field, and run the bases, in spite of their physical impairments. It was a first for many of the campers.
After lunch, they gathered by the pool for cannonball competitions, Nerf football or games of Marco Polo. Disney also hosted events inside the park and the APWU sponsored several themed dinners.
The week wrapped up with the kids having their own "big league" experience, under the lights on a major league field with everything from the peanuts to Jumbotrons. The spectators were on their feet most of the game cheering them on. There wasn't a dry eye in the stadium.
Not only was camp a rewarding and heartwarming experience, it was an opportunity to elevate the image of labor. Our efforts were well publicized in the Orlando area, and I believe participants will forever remember the APWU's efforts.
You can help make future Kids Camps possible by making a contribution to APWU Support Programs — WWAST. Please mail donations to the APWU Human Relations Department, 1300 L Street NW, Washington DC 20005. Thank you!
---
"I watched my son become a much stronger person …with a more 'can-do' attitude than he had before."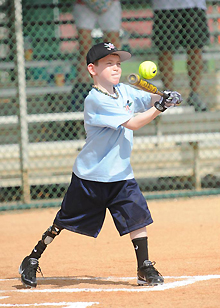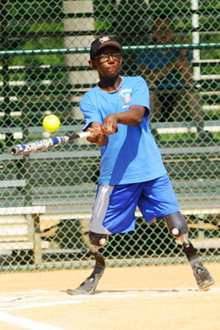 Stay in touch with your union
Subscribe to receive important information from your union.