(This article first appeared in the November-December 2016 issue of The American Postal Worker magazine.)
Let's take A Look Back at some Labor History milestones that took place in November and December: 
November 14, 1889 – The United National Association of Post Office Clerks (UNAPOC) holds its first organizational meeting in New York City. In 1961, UNAPOC joined with two other unions to form the United Federation of Postal Clerks, which merged with other craft unions to form the American Postal Workers Union in 1971.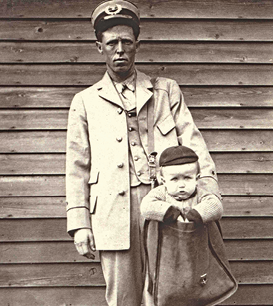 November 17, 1916 – To the relief of Post Office Department employees, management set a limit of 200 pounds per day to be shipped by any single customer. Builders were finding it cheaper to send supplies through the post office rather than wagon freight. In one instance, 80,000 bricks for a new bank were shipped Parcel Post from Salt Lake City to Vernal, UT, 170 miles away. The weight-limiting directive also barred the shipment of humans: a child involved in a couple's custody fight was shipped – for 17 cents – from Stillwell to South Bend, IN, in a crate labeled "live baby."
November 10, 1933 – A sit-down strike began at a Hormel plant in Austin, MN, leading to the creation of the Independent Union of All Workers. Labor historians believe this may have been the first sit-down strike of the 1930s. Workers held the plant for three days, demanding a wage increase. About 400 men crashed through the plant entrance and chased out non-union workers. One group rushed through the doors of a conference room where company owner Jay Hormel and five executives were meeting and declared, "We're taking possession. So move out." Within four days the company agreed to binding arbitration.
November 1936 – Auto workers at Flint's Fisher Body Plant Number One halted production several times to protest speed-ups and wage cuts, prompting the company to move key operations to a less unionized area. But the workers were prepared to take the company on – and had a plan to bring the bosses to their knees. This plan resulted in the historic 44-day sit-down strike that led to the formation of the United Auto Workers.
December 9, 1869 – The Knights of Labor was established. The Knights broadened the labor movement beyond a few skilled trades and reached out to all working men and women. Its goals – attaining equal pay for equal work, abolishing child labor, and winning the eight-hour day provided a rallying cry for all workers.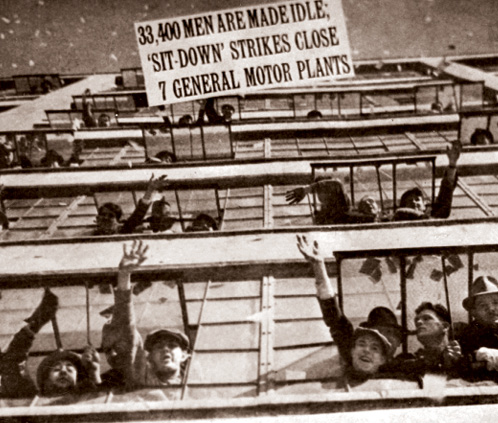 December 15, 1921 – The Kansas National Guard is called out to subdue thousands of women who were going from mine to mine attacking strike-breaking miners in the Pittsburgh coal fields. The women made headlines across the state and the nation: They were christened the "Amazon Army" by the New York Times.  
December 1970 – Congress passes the Occupational Safety and Health Act (OSHA), creating national safety laws for workers.
December 15, 2003 - California's longest nurses' strike ends after workers at Doctors Medical Center in San Pablo and Pinole approved a new contract with Tenet Healthcare Corp., ending a 13-month walkout. The new contract included a 10 percent pay increase for all workers, and an additional 20 percent increase over the following three years. 4
Source: Union Communications Services, ILR School, Cornell University
Stay in touch with your union
Subscribe to receive important information from your union.