(This article first appeared in the September-October 2016 issue of The American Postal Worker magazine)
Let's take a Look Back at Labor History milestones that took place in September and October:
Sept. 4, 1934 – Over 20,000 textile workers walked off the job in Gastonia, NC, sparking a massive, nationwide strike. By mid-September, more than 400,000 textile workers joined them, demanding union recognition and an end to abusive working conditions. The action led to the signing of the National Labor Relations Act, which strengthened workers' legal right to join unions, engage in collective bargaining, and strike, if necessary.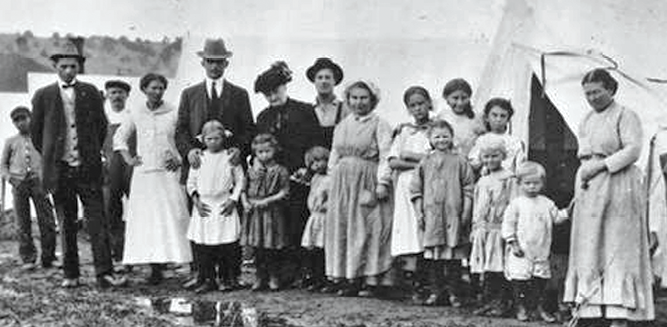 Sept. 5, 1882 – The first Labor Day parade took place in New York City, with 10,000 workers marching.
Sept. 8, 1965 – After Delano grape growers cut pay during the harvest, workers led a nationwide grape boycott to gain union recognition. Under the direction of Cesar Chavez, the workers brought attention to the struggle through non-violent means. The boycott united many groups that advocated on behalf of farm workers. In 1966, AWOC, an AFL-CIO funded union, and other organizations merged to form the United Farm Workers Organizing Committee, which would eventually become the United Farm Workers (UFW).
Sept. 17, 1913 – Nearly 12,000 members of the United Mine Workers went on strike against the Colorado Fuel and Iron Company, which was controlled by oil magnate John D. Rockefeller and railroad baron Jay Gould. The workers were seeking union recognition, enforcement of safety rules, increased pay, an eight-hour day, the right to be paid in cash rather than company scrip, and the right to shop in non-company-owned stores. Strikers endured a harsh winter, but on April 20, 1914, state militia fired on the strikers' campground, killing 25 workers. The "Ludlow Massacre" grabbed worldwide attention and became a rallying cry for workers across the country. Following the horror, the United Mine Workers secured some gains in mine safety and labor regulations in Colorado, and a congressional investigation aided efforts to reform employment laws in other states as well.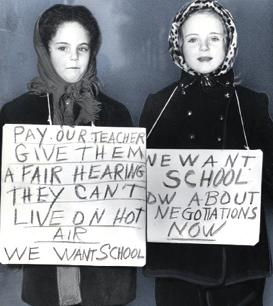 October 1946 – In 1946, the idea of a teachers' strike was revolutionary. But faced with severe underfunding, nearly 90 percent of St. Paul, MN, public school teachers voted in favor of an illegal work stoppage. The strike wasn't only about pay – teachers walked picket lines for better schools. As a result, they enjoyed wide support, with students and parents joining their protests. The strike began in 3-degree weather, and lasted for five weeks. The teachers suspended the strike after St. Paul officials agreed to designate city funds to schools. 
October 1970 – Garment workers at anti-union Farrah factories voted to unionize. After workers – who were mostly female and Hispanic – were fired on-the-spot, hundreds, and eventually thousands walked out. During the two-year strike, a massive nationwide boycott of Farrah pants was launched, eventually leading to recognition of the union. The fight for a union transformed the women who took part, empowering them to take on new responsibilities in the workplace, at home and in their communities.
Oct. 7, 1879 – Joe Hill, Industrial Workers of the World activist, songwriter and poet, was born.
Oct. 18, 1648 – Shoemakers in Boston formed the first labor organization in America.
Oct. 23, 1938 – The National Association of Post Office Custodial Employees (NAPOCE) formed. In 1947, NAPOCE merges with the National Association of Post Office Mechanics and Maintenance Employees (NAPOM&ME), creating the National Association of Post Office and General Service Maintenance Employees (NAPO&GSME), which eventually became the APWU Maintenance Division in 1971. 
Stay in touch with your union
Subscribe to receive important information from your union.