(This article first appeared in the November/December issue of the American Postal Worker magazine)
 
60,000 Hollywood Union Workers Reach Tentative Agreement Following Overwhelming Strike Authorization

On October 16, the International Alliance of Theatrical Stage Employees (IATSE) reached a tentative agreement with the Alliance of Motion Picture and Television Producers (AMPTP) on a new three-year contract.
The agreement followed an overwhelming approval of a strike authorization by members, with nearly 90 percent of all members voting in favor. IATSE – who represents behind-the-scenes film crew members including cinematographers, operators, grips, editors, costumers and others – had negotiated for several months, demanding adequate rest periods and better pay for its members working on sets for streaming content, such as Netflix, Amazon Prime and Apple TV programs and feature films. The companies producing streaming content are some of the largest and richest corporations in the world, and the work behind-thescenes is often extremely difficult, with many crew members expected to work 16-hour days with only 8 hours of turnaround time – a situation similar to Amazon workers in warehouses and distribution centers. Additionally, streaming shows often pay crew members much less for projects than those made by traditional Hollywood studios.
During negotiations, the AMPTP refused to meet IATSE's demands for adequate rest periods and better pay, leading to the union's call for a strike authorization vote. The new tentative agreement has language for adequate turnaround times and includes wage increases in each of the three years of the contract.
The agreement must be approved by IATSE members before it is ratified as a contract. As this issue goes to press, members are still voting. Updates will be provided on apwu.org.
Update: On November 15, IATSE members ratified the contract.
Amazon Workers in Staten Island, NY File for Union Election
On October 25, workers at Amazon's Staten Island, NY facilities filed a petition for a union election, approved the same day by the National Labor Relations Board. The union drive is organized by the Amazon Labor Union, an independent organization led by former Amazon worker Chris Smalls, who was fired from the Staten Island JFK8 facility after organizing a walkout over inadequate health and safety protections during the pandemic.
The union drive is not just looking to organize workers at one facility; the Amazon Labor Union filed a petition to hold an election amongst Amazon workers at all four facilities on Staten Island – more than 5,000 workers, according to the New York Times.
The election will be the second among Amazon workers in the U.S., following the April election in Bessemer, AL. While Amazon was successful in crushing that union drive, the NLRB is expected to order a new election in Bessemer due to the company's illegal unionbusting tactics.
The NLRB will hold a hearing in mid-November on when and how the election for the Staten Island facilities will be conducted.
Look for more updates on apwu.org.
10,000 John Deere Workers on Strike in Iowa, Illinois and Kansas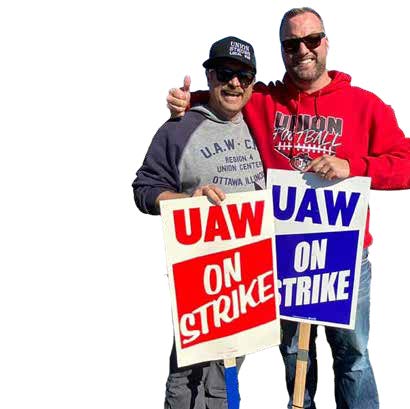 Approximately 10,000 John Deere workers, represented by the United Auto Workers (UAW), began striking on October 14 across three states, following an overwhelming rejection of a tentative agreement in October. Workers again rejected an October 31 tentative agreement. The strike is the first at Deere and Co. in 35 years. 
During initial negotiations, union members were offered sub-inflation wage increases, with the company demanding steep and unacceptable cuts to the pension program, even as Deere and Co. is having its most profitable year on record. According to Labor Notes, "the farm and construction equipment manufacturer expects to rake in $5.7 to $5.9 billion in net income this year, far exceeding its previous high of $3.5 billion in 2013," with CEO John C. May giving himself a 160 percent raise to $15.6 million.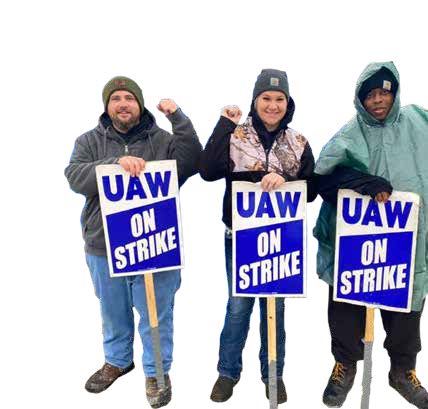 The company's demands would create a third tier, beyond the current two-tier system that sees workers hired after 1997 receive drastically lower pay, benefits, and pensions, and no post-retirement health care. "I'm not thinking about me," Douglas Woolam, a 23-year employee at John Deere Seeding Group in Moline, IL, told the Des Moines Register. "I'm thinking about people behind me. My dad thought about people behind him. My aunt thought about people behind her. And my grandfather thought about people behind him."
During the strike, the company bussed in salaried, non-union workers to operate heavy machinery in its factories, which led to multiple accidents. A UAW member was also killed by a vehicle on the picket line in Milan, IL.
Update: UAW members ended their strike after five weeks on November 17 after ratifying a third tentative agreement. See the APWU's article on their victory here.
South African Metalworkers Win Pay Raises Following Two Week Work Stoppage
On October 21, the National Union of Metalworkers of South Africa (NUMSA) agreed to a new threeyear union contract, bringing a two-week nationwide strike to an end. Representing around 155,000 workers across the country, NUMSA began the strike on October 5, responding to bad faith negotiating tactics from the Steel and Engineering Industry Federation of South Africa, the National Employers' Association of South Africa, and the Metals Engineering Industries' Bargaining Council.
Instead of negotiating, the trade associations made take-it-or-leave-it offers with inadequate pay raises that did not reward workers for their sacrifices during the pandemic.
The associations, NUMSA General Secretary Irvin Jim told South Africa's Fin24, were attempting to create labor conditions "totally unregulated, like the apartheid regime where workers had no rights and could be fired willy-nilly."
"We [were] embarking on a strike as a last resort as we have no choice but to push employers to give workers their wage increases and improve their working conditions," Jim continued. The strike caused over 500 million rand (about $34 million) in losses for the sector, and forced the associations to come to the bargaining table.
The new contract contains good pay increases and cost of living adjustments, as well as backpay to July 1.
1,400 Kellogg's Workers on Strike in Four States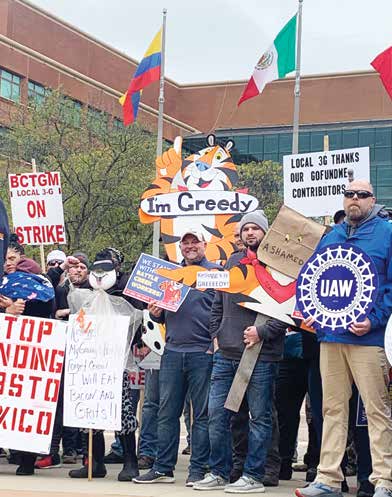 At midnight on October 5, following the expiration of their union contract, 1,400 workers at Kellogg's facilities in Battle Creek, MI; Lancaster, PA; Omaha, NE and Memphis, TN walked out. The workers, represented by the Bakers, Confectioners, Tobacco Workers and Grain Millers International Union (BCTGM), are striking against management's insistence on widening the gaps in the current two-tier pay system, weakening pay and benefits for workers in the second "transitional" tier.
"For more than a year throughout the COVID-19 pandemic, Kellogg workers around the country have been working long, hard hours, day in and day out, to produce Kellogg ready-to-eat cereals for American families," said BCTGM President Anthony Shelton.
"Kellogg's response to these loyal, hardworking employees has been to demand these workers give up quality health care, retirement benefits, and holiday and vacation pay. The company continues to threaten to send additional jobs to Mexico if workers do not accept outrageous proposals that take away protections that workers have had for decades," Shelton continued.
Kellogg's management has brought in scab labor to replace striking workers and refuses to bargain in good faith. The strike remains ongoing as this issue goes to press; updates will be published on apwu.org.
1,300 Workers at Meal-Kit Company HelloFresh Voting to Form Union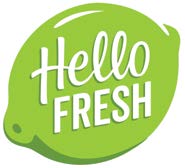 On September, UNITE HERE filed a petition with the National Labor Relations Board to hold a union election for over 1,300 workers at mealkit company HelloFresh. The election, taking place at the end of October, will cover workers at two facilities – in Aurora, CO and Richmond, CA. 
HelloFresh is the largest meal-kit company in the United States. Workers at the company's facilities prepare, package and ship food to individual customers, who then follow a recipe and cook the food at home. Meal-kit companies saw massive growth during the pandemic, with many people opting to buy packages instead of going to grocery stores for fresh ingredients. However, HelloFresh has not increased pay or staffing to adjust to the demand, leaving workers overworked and in dangerous working situations. On June 16, a massive pallet of frozen food fell, injuring multiple workers at the Aurora plant. In response, many workers began to organize a union.
In response to the union drive, HelloFresh has called in anti-union consultants, paying thousands per day to crush the drive even as some of their employees have experienced homelessness due to inadequate pay. Workers are forced to attend captive audience meetings and hear anti-union propaganda from management. If successful, the union would become the first at any meal-kit company. Updates on the election will be published on apwu.org.
Update: Workers in Aurora voted 166-91 against forming a union, under heavy pressure from management's unionbusting tactics. The mail-in vote in Richmond, CA began on Nov. 18.
35,000 Health Care Workers Authorize Job Action at Kaiser
Following the current contract's expiration on September 30, over 35,000 workers across California, Oregon and Hawaii authorized a strike against health care corporation Kaiser Permanente. The workers are represented by 21 different union locals that make up the Alliance of Health Care Unions coalition, one of two major union coalitions that negotiate contracts with the company.
The main conflict in negotiations is Kaiser's insistence on creating a two-tier wage system, falsely claiming that current employees are overpaid. The two-tier system would massively cut pay and benefits for workers hired after 2022, which the company claims is needed to control costs. However, Kaiser made $6.4 billion profit last year, and even returned a $500 million CARES Act loan to the federal government, according to Jacobin.
Creating a second tier would impact not only Kaiser, but the entire health care industry. "The two-tier system would be disastrous," Jodi Barschow, president of the Oregon Federation of Nurses and Health Professionals (OFNHP), part of the Alliance, told Jacobin. "It wouldn't just impact us and Kaiser. Kaiser is industry-leading."
As this issue goes to press, the Alliance remains in negotiations with Kaiser and no strike has begun. However, further updates will be published on apwu.org should a strike begin or if an agreement is reached.
Update: A tentative agreement was reached on November 12, avoiding the strike. Alliance union members are now voting on ratification over the next several weeks.
Thousands of South Korean Workers March For Economic Justice
On October 20, over 16,000 workers marched across South Korea in a demonstration against economic inequality. The one-day strike, organized by the Korean Confederation of Trade Unions (KCTU) built off the massive popularity of the hit Netflix show Squid Game – a show inspired by the brutal economic conditions faced by South Korean workers since the 2008 global financial collapse – using show-inspired costumes, signs and social media messaging to spread their message and demands.
According to CBS News, the main demands of the strike were "demanding an end to irregular employment contracts and laws they say fail to protect employees in small companies, with fewer than five employees, from discrimination."
Workers also demanded "the right for all workers to form unions; for the government to take more responsibility for ensuring job security as the country's economy transitions from industry to services; and for the strengthening of public transportation networks, medical care, housing and education."
President Dimondstein Speaks in Support of Brazilian Postal Workers at UNI Americas Event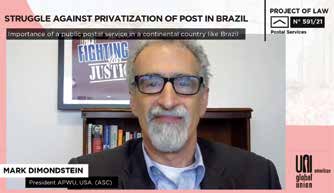 On October 25, President Dimondstein spoke at a UNI Americas event in support of Brazilian postal workers and their efforts to keep the country's postal system public. The livestream event, called "Struggle Against Privatization of Post in Brazil," brought together union leaders, a Brazilian Senator, and other supporters to discuss the ongoing struggle against privatization in Brazil, and the path forward to keep Correios, the country's postal operator, in public hands. Brazilian President Jair Bolsonaro, a right-wing authoritarian politician, is committed to fully privatizing Correios.
In September 2020, Brazilian postal workers engaged in a 35-day strike against privatization attempts and Correios management's attempts to considerably cut benefits. The strike ended following an order from Brazil's Supreme Labour Court.
"On behalf of the 200,000 postal workers in the American Postal Workers Union in the United States, we stand shoulder to shoulder with Brazilian postal workers in the two postal unions in your struggle to defend Correios and protect this vital public service for generations to come," President Dimondstein said. "Your struggle is our struggle. If the privatizers win, we all lose. When you, the workers and union, win, we all win."
The APWU is circulating a petition to the Bolsonaro government to keep postal services public. APWU members are encouraged to sign the petition and share with co-workers, family and community members. You read and sign the petition by texting BRAZIL to 91990.
Stay in touch with your union
Subscribe to receive important information from your union.