Landmark Arbitration Award Reshapes California PVS Subcontracting
Ruling Has Implications for All Crafts
In one of the first decisions interpreting the 2010-2015 Collective Bargaining Agreement, Arbitrator Stephen B. Goldberg ruled on March 4 that the USPS decision to subcontract Postal Vehicle Service work throughout California violated the contract.
"This is a big win," said President Cliff Guffey. "It demonstrates that the 2010-2015 Collective Bargaining Agreement strengthens our ability to protect APWU jobs."
Arbitrator Goldberg rejected the USPS assertion that the Postal Service can overlook higher subcontracting costs when making outsourcing decisions.
"The Postal Service can no longer justify contracting out work that would be less expensive to keep in house" on the grounds that it has given due consideration to cost as well as other factors outlined in the Collective Bargaining Agreement, Goldberg wrote. A Memorandum of Understanding negotiated as part of the 2010 Collective Bargaining Agreement states that if work can be performed by postal employees at a cost that is equal to or less than the cost of subcontracting, it will be performed in-house.
Each of the factors listed in the CBA must be considered, the arbitrator wrote, "but if factors other than cost do not rule out keeping work in house, and the cost of keeping work in house would be less than contracting out, both the text and the bargaining history of the Contracting MOU require that the work be kept in house."
Goldberg also ruled that the Postal Service must follow steps outlined in Article 32.1.B of the Collective Bargaining Agreement before it can make and implement a decision to contract out PVS in California. In doing so, he rejected the USPS assertion that Article 32.1.B does not apply to PVS.
Motor Vehicle Craft Director Bob Pritchard praised the ruling. "This award will help us continue the fight to protect jobs," he said. "That's a fight we intend to win."
"There is still a great deal of work to be done," he cautioned. "We will be very busy compiling the evidence necessary to demonstrate that postal drivers can run routes at a lower cost than subcontractors."
Significant Subcontracting
In accordance with Article 32.1.B, the Postal Service must take specific steps when it is considering subcontracting that will have a significant impact on bargaining unit work.
The USPS must:
Notify the union before it makes a decision on subcontracting;
Meet with the union while developing its Comparative Analysis report;
Consider the union's views, including any proposals the union makes to avoid or limit subcontracting, and
Include a statement of the union's views and proposals in its analysis of the proposed subcontracting.
Goldberg's award affirmed that the memorandum on subcontracting costs applies even when outsourcing will not have a significant impact on bargaining unit work.
A Great Effort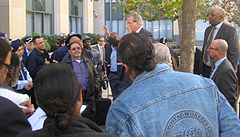 "This victory was the result of a tremendous effort by many people," Guffey said. APWU's Motor Vehicle Division officers worked tirelessly. MVS Director Bob Pritchard, Assistant Director Michael Foster, the craft's National Business Agents, especially California's NBA, Javier Pineres, and Western Region Coordinator Omar Gonzalez all made outstanding contributions. Vice President Greg Bell and Director of Industrial Relations Mike Morris provided strategic advice and assistance. As always, the union's support staff, most notably Phil Tabbita, made outstanding contributions, along with our economist and transportation consultant. The union's attorneys presented the case and put forth a great effort.
The support of rank-and-file drivers was crucial throughout the process.
"Thank you one and all!"
The Postal Service first announced its decision to contract out its entire California Postal Vehicle Service in June 2012, prompting the union to file a complaint in federal court and a national-level grievance.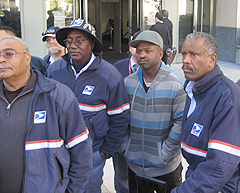 Arbitrator Goldberg's award was intended to interpret key provisions of the Collective Bargaining Agreement but not to specify steps forward. The union and management plan to confer about how to implement the decision, and Goldberg has retained jurisdiction to resolve any outstanding issues if the parties are unable to agree.
Stay in touch with your union
Subscribe to receive important information from your union.