(This article first appeared in the March-April 2017 issue of The American Postal Worker magazine.)
By Legislative Director Judy Beard 
The 115th Congress convened on Jan. 3, and legislators wasted no time introducing bills and resolutions of interest to workers.
On Jan. 31, Representatives Chaffetz (R-UT), Cummings (D-MD), Meadows (R-NC), Ross (R-FL), Connolly (D-VA) and Lynch (D-MA) introduced The Postal Service Reform Act of 2017, H.R. 756, "to restore the financial solvency and improve the governance of the United States Postal Service in order to ensure the efficient and affordable nationwide delivery of mail."
The bill addresses two serious key issues of concern: the pre-funding mandate and increasing postage revenue. While we are continuing discussions with congressional representatives on improvements to the bill, at this time the APWU supports the current legislation. Please see page 11 for more information about H.R. 756.
Letter to President Trump
After the election, we (President Dimondstein and I) reached out to then President-Elect Trump's transition team and met with a representative to inform them about the makeup of the Postal Service and urgent postal issues.
President Dimondstein followed the meeting up with a letter to President Trump and Vice President Pence. The letter provided information about the financial challenges facing the USPS and explained how they are a result of the unjust pre-funding mandate in the 2006 Postal Accountability and Enhancement Act (PAEA), which required the Postal Service to pre-fund heath care benefits of future retirees. It also pointed out that because of your dedicated work sisters and brothers, "the Postal Service is consistently rated as the most trusted government agency."
T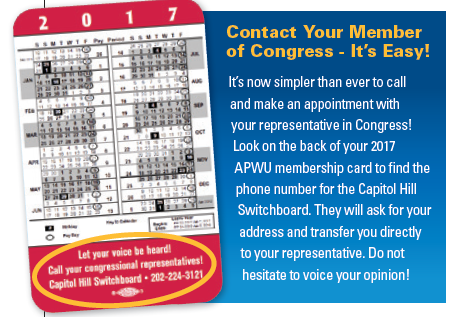 he letter further emphasized how "the question of retaining and growing decent jobs was rightfully the crucial issue of the 2016 presidential election," and went on to note "that the Postal Service is a source of good living wage jobs." The Trump Administration will hopefully take all postal issues seriously, including filling the vacancies on the Board of Governors and Postal Regulatory Commission with strong advocates for the public Postal Service. To read the entire letter, go to http://bit.ly/2kd8fXL.
Stay Involved
We encourage you to build relationships with your lawmakers and express your opinions on issues before Congress cast their votes. We cannot sit on the sidelines and watch what was won for workers by the civil/human rights movement and unions disappear.
If you are not signed up to receive the APWU e-Team alerts, I urge you to do so (http://bit.ly/2jmznE3). Get involved by attending rallies, town-halls, Central Labor Council meetings or by sending letters to your elected officials' local offices. Call your member of Congress, with the number on the back of your 2017 APWU Membership Card, and let them know where you stand on current legislative issues. You can also show your support by continuing to contribute COPAmatically. 
Stay in touch with your union
Subscribe to receive important information from your union.