Legislators Must Apply Pension Overpayments to Pre-Funding Bill
In testimony before a Senate Subcommittee on May 17, APWU President Cliff Guffey urged legislators to take immediate action to restore financial stability to the cash-strapped agency.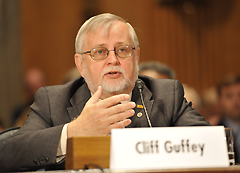 "This is not a request for a subsidy or bailout of the Postal Service," Guffey said at the hearing before the Subcommittee on Federal Financial Management, Government Information, Federal Services, and International Security.
"The Postal Service is very capable of dealing with the challenges it is facing because of declining mail volumes and a shift to electronic transmissions," the union president said. "What it cannot sustain is the burden of the unique and unreasonable requirement that it pre-fund its retiree health benefits over a 10-year period." No other government agency or private company bears this burden.
The hearing was called to examine management plans and legislative proposals to address the USPS financial crisis, including an updated version of a bill introduced last year by Sen. Tom Carper (D-DE), chairman of the subcommittee.
A Mixed Bag
Guffey praised provisions of Sen. Carper's "POST Act" (S. 1010) that would permit the USPS to use overpayments to its pension accounts to meet the pre-funding obligations, noting they would "give the Postal Service more than $5 billion in breathing room each year."
But he also criticized several negative aspects of the bill. The proposed legislation would give the Postal Service authority to close post offices solely for financial reasons, and would require arbitrators to consider the financial health of the USPS when contract negotiations end in arbitration, he pointed out.
Guffey objected to proposals to allow management greater freedom to close small post offices, saying consideration must be given to the availability of postal services in these communities.
"We are sensitive to the cost and the possibility of deficits in small postal offices," the union president added. "In our new National Agreement, we have agreed to flexible schedules and to the use of lower-wage and temporary workers in small facilities where such savings might increase the viability of small postal facilities." Cutting service is not the answer to USPS financial difficulties, Guffey said.
Postal Workers Get the Blame
The union president also expressed the APWU's "unalterable opposition" to proposals that would change the standards for arbitration when contract negotiations end in an impasse.
"The draft legislation we have seen would destroy the fairness of postal bargaining in several ways: It would put an arbitrary time limit on interest arbitration; it would make postal employees pay the price for congressionally-caused deficits employees have been powerless to prevent or alleviate, and it would place a cap on increases in postal wages.
"These provisions would gut free collective bargaining by postal employees, and the APWU is adamantly opposed to them," Guffey said.
The APWU appreciates Sen. Carper's leadership in addressing the pre-funding requirement and the overfunding of postal pension funds, Guffey said. "We will help in any way we can to support sensible legislation that does not seek to address postal financial problems at the expense of postal employees."
APWU members are encouraged to contact their legislators and urge them to support bills to correct the USPS financial crisis. "We must make legislative action a priority," Guffey said.
Stay in touch with your union
Subscribe to receive important information from your union.