Great New Benefits for Retirees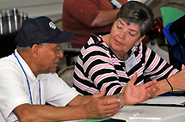 (This article appeared in the Nov./Dec. 2005 issue of The American Postal Worker magazine)
Doug Holbrook, Director
You've worked toward it and planned for it, and now that moment has arrived: Your retirement. A new package of travel, entertainment, and other benefits offered through the AFL-CIO's Union Plus program can make it all the more rewarding.
From car rentals to credit counseling, Union Plus offers discounted services and free benefits that can help you make the most of your new life.
The Retirees Department is always seeking ways to better the lives of our retired members. We know how important you still are to the postal worker community. We want you to continue to receive the same protection, support, and privileges that you enjoyed as active workers. That's why we started this department, and that's why we plan to continually expand our services.
So if you're thinking about retiring or are already retired, we encourage you to check out the programs below. Go to their sites for more information and follow the instructions; in many cases, you can take part with just a few clicks of the mouse or a toll-free phone call.
Deals and Discounts
Get out of town with special rates on: car-rental discounts (www.unionplus.org/carrentals); cruises on the open seas (www.unionplus.org/cruise); and general travel, including bargains at hotels and condos or for rental RVs (www.unionplus.org/travel). And you can save on automotive maintenance (www.unionplus.org/goodyear).
Get connected and show your love with reduced rates and unlimited service from a union-friendly Internet service provider (www.unionplus.org/isp); and wireless phone serviceand equipment (www.unionplus.org/cingular-wireless). Study loan choices and other services to help you plan for and fund educational costs (www.unionplus.org/education).
Treat your mind and body to entertainment discounts, such as savings on theme park, museum, and sporting event admissions, DVD and video rentals, and movie tickets (www.unionplus.org/entertainment), and health club discounts, including reduced-fee memberships and discounts on initiation and other services (www.unionplus.org/healthclubs). You can also get great discounts on music, by joining the Union Plus CD club with savings and free offers on CDs from one of the world's leading audio companies (www.unionplus.org/music).
Manage your money better with: credit counseling , including action plans, budgets and debt-management strategies (www.unionplus.org/creditcounseling) and an online tax service (www.unionplus.org/taxes).
All of these programs are available to you only if you have joined the APWU Retirees Department.
Standard Services for Retirees
For just $2 a month, APWU retirees are automatically qualified for free accidental death and dismemberment insurance,dental, health, and hospital coverage,home mortgage financing, legal insurance, the APWU Mastercard, and other special benefits.
As an APWU retiree, you're kept informed, with timely updates on Medicare, Social Security, prescription-drug coverage and late-in-life decision-making. The following sources may be particularly helpful later in your retirement: Aging with Dignity, a nonprofit organization that helps families deal with difficult topics in a sensitive way (www.agingwithdignity.org); and the Medicare Rights Center, a consumer organization that offers guidance through "the Medicare maze" (www.medicarerights.org).
And, of course, we encourage you to maintain your activism. Stay involved and informed about legislative activity, policy decisions, and social and educational opportunities that can affect your life as a retiree.
We're here to answer your questions, take your comments, or help resolve problems. You can reach us directly and toll-free at 877-APWU-NOW (877-279-8669), where you can receive our new Retiree Membership Kit. We hope that our work makes your retirement the best it can be.
Retired But Restless?
Maybe you're not sure you want to be fully retired. Started by retired postal employees, the Postal Knowledge Group provides services to the USPS and other companies. Retired clerks interested in possible part-time, non-bargaining unit work through PKG are encouraged to visit www.pkgconsulting.com.
Stay in touch with your union
Subscribe to receive important information from your union.