New Organizing Toolkit Available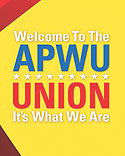 A new organizing toolkit is now available, Organization Department Director Anna Smith has announced. The new kit includes a Welcome Book [PDF], a brochure specially designed for PSEs [PDF], a new union sign-up form [PDF], and a host of other material.
"I hope this new material will motivate locals and state organizations to sign-up new members. I hope the toolkit will assist them in their organizing efforts.
"I want the APWU to stand out. When postal workers — and managers — walk the floor, I want them to see 'APWU' wherever they go! I want them to know we're here and we're getting stronger," she said.
Stay in touch with your union
Subscribe to receive important information from your union.