Maintenance Members Have Their Say
(This article first appeared in the May-June 2016 issue of The American Postal Worker magazine.)
As this magazine goes to press, the union is speeding quickly toward completion of our case before Arbitrator Stephen Goldberg in our effort to win a good contract.
In February we brought a diverse group of Maintenance Craft employees together to participate in the hearing by providing first-hand testimony about the work we do.
As intended, the scope, complexity, accountability, independence, and responsibility of the jobs shone through. And our members' work ethic and pride in doing their jobs well were unmistakable. They certainly did us proud!
The arbitrator was clearly impressed with the breadth of the work employees of the Maintenance Craft handle on a daily basis. We expect him to render a decision in June or July.
But regardless of where we are in the proceedings at the time you read this, those APWU members who assisted the Maintenance Craft in presenting the case deserve special recognition.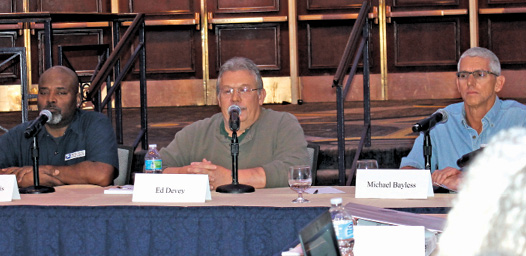 The first panel of Building Maintenance employees included: Ed Devey, a Pittsburgh Metro Area Local Building Equipment Mechanic; Michael Bayless, an Area Maintenance Technician from the Tampa Area Local, and Edward A. Harris, a Laborer-Custodian and member of the Southern MD-Nation's Capital Area Local.
The second panel of Mail Processing Equipment personnel consisted of: Robert Marchione, an Electronic Technician from the Boston Metro Area Local; Scott Beardsley, a Level 7 Maintenance Mechanic from the San Diego Area Local, and Robert Hardy, a Mail Processing Equipment Mechanic from the Madison WI Area Local.
While we would have liked to include all occupational groups, the union members who provided testimony, along with my lead-in, made a convincing case.
In March, during the next round of hearings, the APWU presented two panels of Postal Support Employees (PSEs), including Dallas Area Local member Jalisa Jorden, a custodian toiling at the current PSE Level 4 hourly rate of $13.25 per hour. A single mother of two, she certainly offered moving testimony about the real life of a PSE custodian.
Jody Harper, a custodian and member of Nations Capital-Southern MD Area Local who was recently converted to career, also addressed the difficulties of making it as a PSE.
Their testimony provided the panel of arbitrators with a sound basis to draw the conclusion that the PSE category should be eliminated from the Maintenance Craft.
32 Hours in a Day?
Even though contract negotiations and arbitration have dominated our time in recent months, we continue to share the load on day-to-day issues. While we have reduced our travel, we are doing our best to get to your local, state and regional conventions and seminars.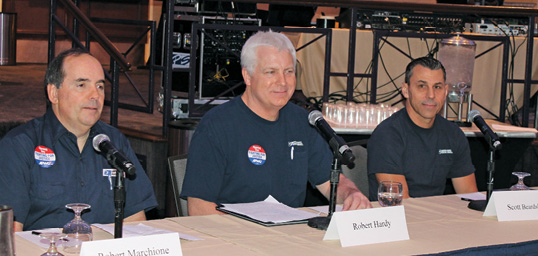 Updating you with the current status of issues in the field and getting your feedback are always very important undertakings. Besides building union "esprit de corps," sharing information is, critically, a two-way street. We supply local representatives with all the tools we can to help them succeed at the local and regional level. At the same time, we are always interested in hearing from you about how the USPS is conducting business in your facility. This is a great aid to us in negotiating on your behalf at the headquarters level.
In between internal meetings and those with management officials, we've kept on top of returning calls, emails and letters. The lengthy commutes to and from home provide a good time for calls.
Recent Step 4 Agreements
The APWU and the Postal Service signed a Step 4 agreement on Feb. 4 (Case # Q10T-4Q-C 16070841) on the issue of higher-level pay for custodians. Previous Step 4 agreements, dating as far back as 1983, had required higher-level pay for custodians responsible for any duties requiring a form OF-346 or SF-46 or the operation of Powered Industrial Equipment (PIE, for example Verta-Lifts).
One district decided that since older Step 4 agreements referenced Level 3 custodians and specific USPS licenses, the 2008 custodian upgrades to Level 4 and the elimination of postal licenses meant that higher-level pay was no longer warranted. That position was brought all the way to regional-level arbitration, despite agreement at Postal Service headquarters at the time of the upgrades that old Step 4s would continue to apply. This was primarily because the position the higher level was based on in the first place was also upgraded.
Nonetheless, the issue moved forward and was referred to Step 4. The settlement says, "There is and was no disagreement between the parties." The written agreement clearly spells out that there never was a disagreement between the parties regarding when custodians received higher-level pay.
Another Step 4 was signed on March 3, 2016, stipulating, again, that the installation, verification, testing, updating, etc. of computer software is to be assigned to Electronic Technicians (ETs) at local installations. This includes work needed as part of a "push" or download software installation.
We also maintained our position on work done at the server end of the "push" as part of our supervisor or contractor doing bargaining unit work at places like Merrifield, VA, and Raleigh and Greensboro, NC, and the Maintenance Technical Support Center (MTSC), etc.
Commonly referred to as Unit Clarification cases, we will continue our union "push" to secure ET work by getting our work back at these otherwise off-site installations.
Stay in touch with your union
Subscribe to receive important information from your union.