Making Sure America Unites to Save Our Public Postal Service
(This article first appeared in the November/December 2015 issue of The American Postal Worker magazine.)
How can we make sure America unites with us to stop the destruction of the public Postal Service?
We need to make support for the people's Postal Service an issue in the presidential race. We want our future president – and members of Congress – to take a stand against privatization.
We should demand that candidates declare support for:
Reversing the reduction in service standards that management implemented in January;
Stopping the consolidation of mail processing plants;
Eliminating the requirement that the Postal Service pre-fund healthcare benefits for future retirees 75 years in advance, and
Preserving home delivery.
To make it happen, union members should contact the campaign staffs of presidential candidates, such as Sen. Bernie Sanders (I-VT) and former Secretary of State Hillary Clinton, as well as candidates for congressional office, and ask them to take a stand.
Making It an Issue
Candidates for president and Congress usually have campaign offices in various cities and states, so take a delegation of community residents and union members to an office near you. Bring petitions or postcards stating that we want them to announce their support to save the people's Postal Service. Ask them to make it part of their campaign platform.
Bring a resolution or proclamation the candidate can sign declaring support for reversing the latest service standards; stopping the consolidation of mail processing plants; eliminating the pre-funding requirement, and preserving home delivery, so we can expand service, not continue down the road to privatization.
Make your contacts now while the campaign trail is hot! We need to make sure that saving the Postal Service from privatization is on the mind of everyone running for office.
With hard work, we could make postal privatization one of the pivotal issues in the 2016 campaign.
We can start making appointments with members of Congress. Build local coalitions within your communities now. People power is the only way. How many people with signs can you get to campaign speeches and gatherings? With a community coalition, the numbers can be great.
We won't stop after just one visit. We will make many visits to campaign headquarters; write newspaper articles and letters to the editor; conduct interviews with radio and TV reporters; pass out informational leaflets; conduct sit-ins; hold town hall meetings, and plan activities at campaign speeches and other gatherings.
When candidates hold rallies, get to the front of the crowd with signs that say, "Will you save the people's Postal Service?" Signs could also ask, "Will you take action to stop the privatization of the Postal Service?"
For candidates that have supported us all along, request that they help make saving the Postal Service a national campaign issue. Prior to the 2016 election, we need non-stop activity to publicize the need to vote for candidates who will fight postal privatization. We need to get our communities on board to support Good Postal Service, Good Jobs, Good Contract!
Coming in With a Plan
We need our newly-elected president and newly-elected members of Congress to come into office with plans to immediately restore service standards, return the processing of outgoing mail to communities that lost it, eliminate the 2006 congressional requirement to pre-fund retirees' health benefits, and continue home delivery.
The USPS should be permitted to control its own revenue and expand services; it shouldn't be forced down the path of privatization by a manufactured financial crisis.
Health benefits for future retirees are already more than 50 percent funded, which is much better than the funding for the rest of the federal government.
Except for the 2006 pre-funding requirement, the Postal Service would have been profitable since October 2012.
With everyone's help we can make a difference. The Postal Service could save our economy if only our policymakers would take action now.
We need to motivate our sisters and brothers to step up and get involved. There is a movement going on: The people are going to take back our Postal Service and our country – but it has to start with us.
---
President's Statement of Support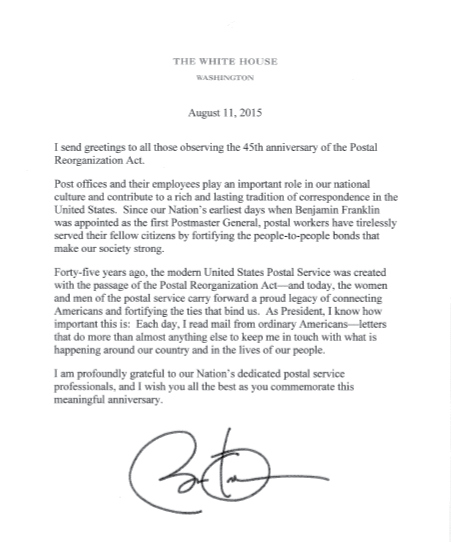 On Aug. 11, the eve of the 45th anniversary of the Postal Reorganization Act of 1970, President Barack Obama issued the following statement:
"I send greetings to all those observing the 45th anniversary of the Postal Reorganization Act.
"Post offices and their employees play an important role in our national culture and contribute to a rich and lasting tradition of correspondence in the United States. Since our Nation's earliest days when Benjamin Franklin was appointed as the first Postmaster General, postal workers have tirelessly served their fellow citizens by fortifying the people-to-people bonds that make our society strong.
"Forty-five years ago, the modern United States Postal Service was created with the passage of the Postal Reorganization Act – and today, the women and men of the postal service carry forward a proud legacy of connecting Americans and fortifying the ties that bind us. As President, I know how important this is: Each day, I read mail from ordinary Americans – letters that do more than almost anything else to keep me in touch with what is happening around our country and in the lives of our people.
"I am profoundly grateful to our Nation's dedicated postal service professionals, and I wish you all the best as you commemorate this meaningful anniversary."
It is important that when our new president takes office in 2016 he or she is already committed to protect the public Postal Service. If we could persuade President Obama to issue an executive order before he 
Stay in touch with your union
Subscribe to receive important information from your union.