Memphis Sanitation Workers' Strike Anniversary
50 Years Later, Unity of Labor and Civil Rights Lives On
(This article first appeared in the January-February 2018 issue of the American Postal Worker magazine)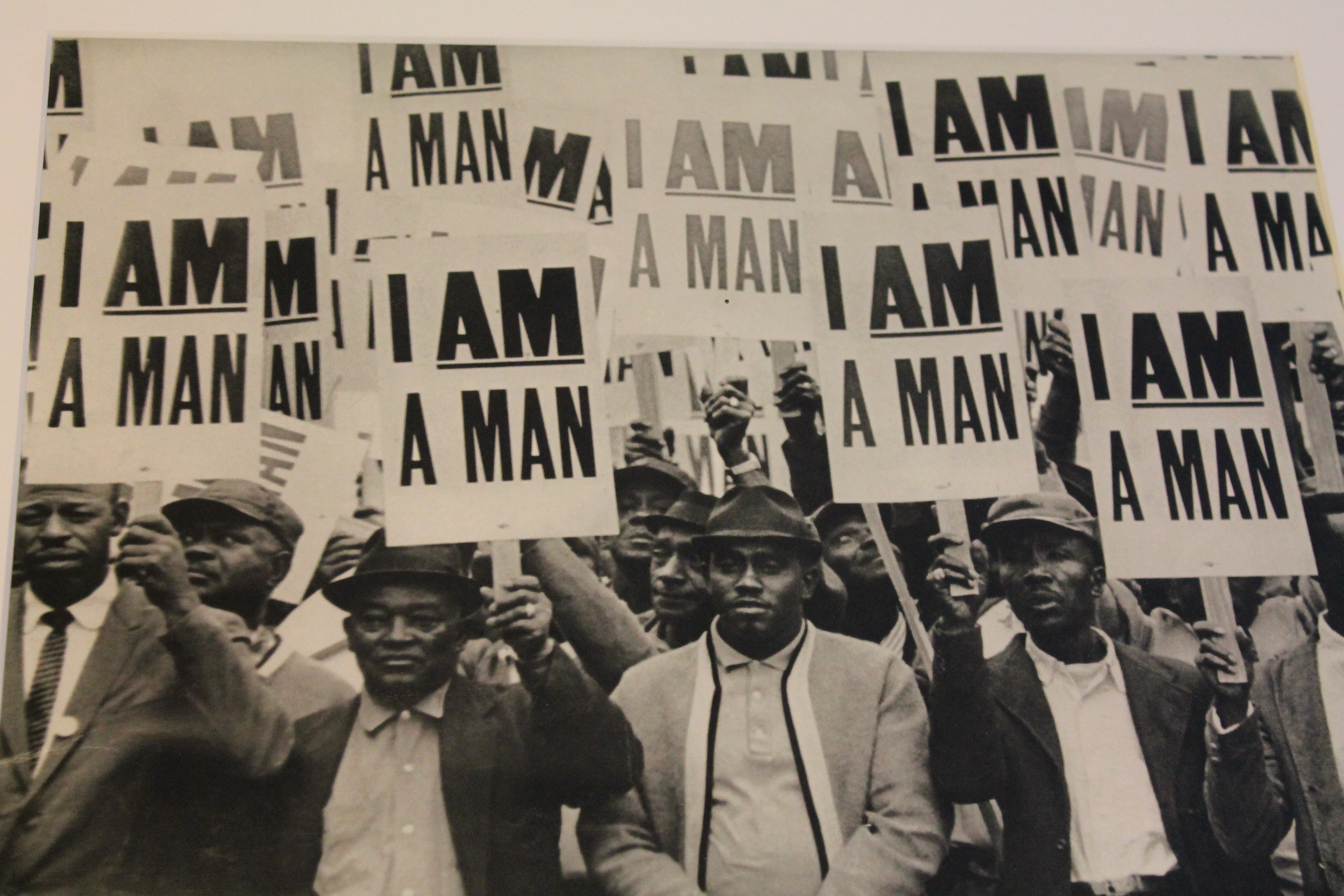 This spring marks 50 years since sanitation workers in Memphis went on strike, Dr. Martin Luther King Jr.'s "Mountaintop" speech and his subsequent assassination.
In February 1968, Memphis denied its sanitation workforce – consisting of mostly black men – not only a safe working environment, but also the right to form a union. The workers needed a solution, but the city, led by Mayor Henry Loeb III, refused to negotiate. With no other choice, they walked off the job in what would be a two-month strike.
The sanitation workers fought not just for themselves, but for all workers. Churches and community groups joined the picket line, with ministers leading daily demonstrations.
Labor Movement & Civil Rights
The sanitation strike is a prime example of the intersection between the labor and civil rights move- ments. When working people fight on the same team, we all reap benefits. King understood the importance of labor unions in securing good jobs for African-Americans and all working people.
Just before the strike, King launched the Poor People's Campaign, in which he traveled around the country, building a movement of working people who demanded better jobs, homes and education. He believed that when workers join together, anything can be accomplished, and that the key to a thriving society was a workforce paid a living wage in safe work environments.
"I think it is necessary for us to realize that we have moved from the era of civil rights to the era of human rights… In short, we have moved into an era where we are called upon to raise certain basic questions about the whole society," King said months before the strike.
King had long been arguing that unions failed to reach poor people – organized labor had not gone far enough beyond the ranks of well- paid, blue-collar industrial workers, he said, and had not begun to address "economic inequality."
He pointed out that unions have a positive effect on all who labor – even those who were not unionized. In his last Sunday sermon, King said, "We read one day: We hold these truths to be self-evident, that all men are created equal… among these are life, liberty, and the pursuit of happiness. But if a man doesn't have a job or an income, he has neither life nor liberty nor the possibility for the pursuit of happiness. He merely exists."
Setting the Stage
Memphis was a crucial piece of the Poor People's Campaign. More than half of the city's black residents were living below the poverty line in 1968, compared with only one out of seven whites. Four out of 10 sanitation workers qualified for welfare, and they received no medical insurance, workers' compensation, or overtime pay.
The workers didn't only want improved conditions, they also wanted a union. Workers had been trying to organize with the American Federation of State, County, and Municipal Employees (AFSCME) for five years, but Mayor Loeb refused to recognize the union.
Boiling Point
During a heavy rainstorm on Jan. 31, 1968, about two dozen Memphis sewer workers – all of them black – were sent home without pay. Their orders came from supervisors – all of them white – who were paid.
The next day, two black sanitation workers were crushed to death by a malfunctioning compactor.
On Feb. 12, workers learned virtually nothing was being done about their fallen comrades and they would be compensated only two hours' pay for the full day missed. More than 1,000 black municipal employees walked off the job in a wildcat strike, demanding union recognition.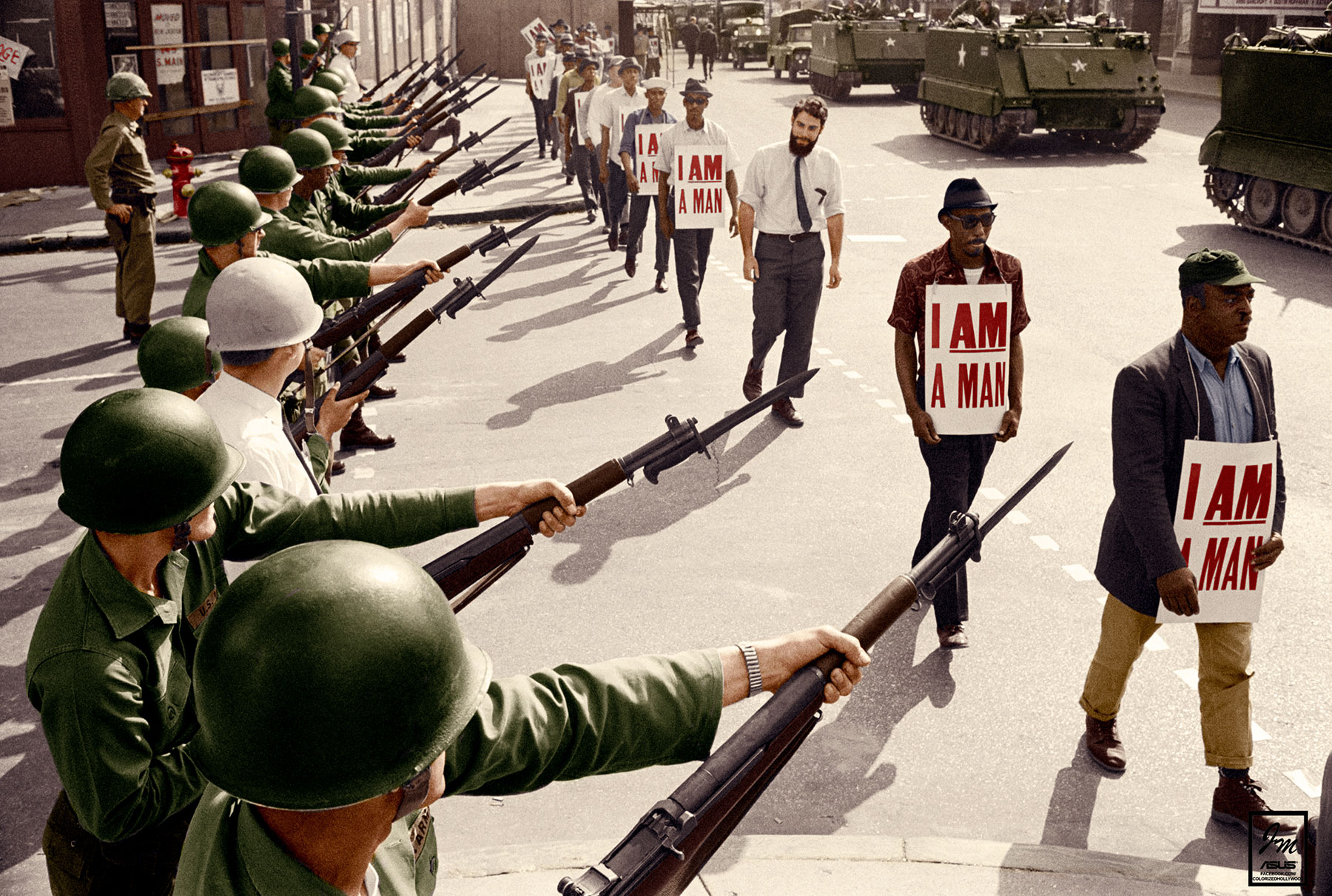 Within days, the strikers' garnered national support. Memphis NAACP members endorsed the strike and AFSCME International President Jerry Wurf declared the strike could end only when the workers' demands were met.
'We Go Down Together' 
A month into the strike, King visited Memphis during his Poor People's Campaign. On March 18, more than 10,000 workers, preachers, homemakers, and students greeted him at Mason Temple.
"You are doing here in Memphis what I am trying to do nationally," King said. "You are reminding America that it is a crime for people to live in this rich nation and receive starvation wages."
Afterward, a March 28 rally was marred by violence, resulting in a dusk-to-dawn curfew and National Guardsmen sent to Memphis by the governor of Tennessee.
King announced that he would be back for a "massive nonviolent demonstration" on April 4 and returned April 3. His staff and local officials agreed to postpone the march until April 8. However, a pre-march rally the evening of April 3 was not to be delayed, and that is when King delivered what would become known as "The Mountaintop Speech."
"You may not be on strike, but either we go up together, or we go down together," King said to strike supporters. "Well, I don't know what will happen now. We've got some difficult days ahead. But it doesn't matter with me now. Because I've been to the mountain-top... And I've seen the promised land. I may not get there with you, but I want you to know tonight that we, as a people, will get to the promised land. And I'm happy, tonight. I'm not worried about anything."
King was fatally shot the next day as he left his hotel room to go to dinner.
On April 8, a march did take place in Memphis. A crowd estimated at 40,000 walked silently in memory of King.
Lessons Learned
In the wake of the tragedy, and Mayor Loeb still refusing to negotiate with workers, U.S. President Lyndon Johnson stepped in. He instructed Undersecretary of Labor James Reynolds to take over contract mediation and settle the strike.
Reynolds met with Loeb, and then AFSCME, in separate meetings. The following week, Loeb and the union came to an agreement. On April 16, workers voted to accept it, ending the strike.
President Johnson and Tennessee's governor pressured the city into recognizing AFSCME Local 1733 and allowing the check-off of union dues – key components that enabled the union to bargain over other grievances.
Within 10 years, Local 1733 had grown from about 1,300 sanitation workers to more than 7,000 government employees, with jurisdiction in the city and county school boards, fire commission, city courts and auto inspection stations. 
---
How You Can Celebrate
To commemorate these events, AFSCME launched the I AM 2018 campaign. There are local days of action in January, followed by springtime town hall meetings and rallies, culminating with 50th anniversary events in April.
For more information and to find an event near you, visit iam2018.org.
Stay in touch with your union
Subscribe to receive important information from your union.