Organizing with the APWU Health Plan
(This article first appeared in the July/August 2019 issue of the American Postal Worker magazine) 
We have been engaged in an effort to assist our locals and states with organizing by using the APWU Health Plan as an organizing tool.
Our PSEs are eligible for the wonderful union-negotiated benefit of being able to be enrolled in the highly-rated APWUHP Consumer Driven Option (CDO). This plan is chosen by tens of thousands of career federal and postal employees and the improvement in benefits for our members and their families when choosing the APWUHP is dramatic.
The APWU Health Plan sends a letter from the director to every PSE as they become eligible for APWUHP CDO (PSEs become eligible when they are reappointed after a 360-day appointment with no more than a five day break). If they are a union member, I congratulate and inform them that this benefit is yet another benefit of their union membership. If they are not a union member, I inform them of this wonderful union-negotiated benefit and ask them to join the APWU so they can receive it and include a 1187. This letter is signed by myself and the Organization Director.
After we complete the monthly mailing, we have the mailing list placed under the "Members Only" section of the website. The list can be accessed by your local President or Secretary-Treasurer with their dues check-off list information.
To get a brief idea of how much better the APWUHP CDO is than the USPS Health Insurance Plan please see the information below.
To answer your questions on Federal Employee Health Benefits program, come to the 2019 APWUHP Open Season Seminar. It will be held this year in beautiful downtown Portland, Oregon! This informative, motivating seminar will be from October 26-28 and all meals are provided. Together Better Health!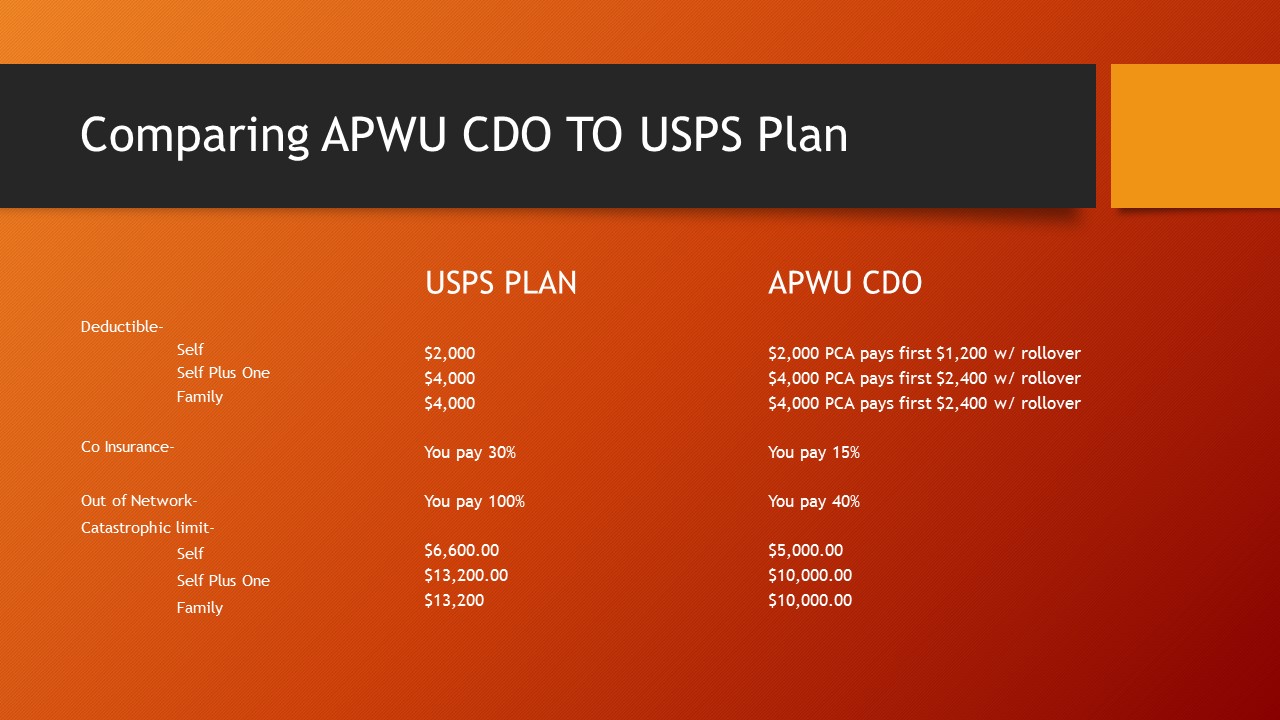 Stay in touch with your union
Subscribe to receive important information from your union.