Postal Banking Hits Responsive Chord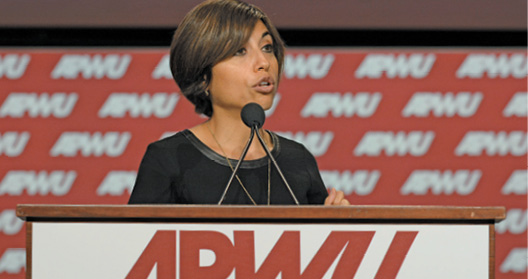 (This article first appeared in the November-December 2016 issue of The American Postal Worker magazine.)
Delegates to the APWU convention in August responded enthusiastically to the possibilities that postal banking holds, both for strengthening our public Postal Service and for providing affordable, accessible financial services for consumers.  
"It's expensive to be poor," Prof. Mehrsa Baradaran told delegates. She explained the abandonment of low-income communities by banks, creating "bank deserts," and leaving people with no place to go except predatory services like payday loans and car title loans.
Baradaran, author of How the Other Half Banks: Exclusion, Exploitation, and the Threat to Democracy, said, "Instead of just looking to the future for an answer, we may want to look at the past. And it just so happens that there is a large national government-backed institution that exists in every poor neighborhood and community and didn't leave when all those banks left… The US Post Office served as a bank for much of its history."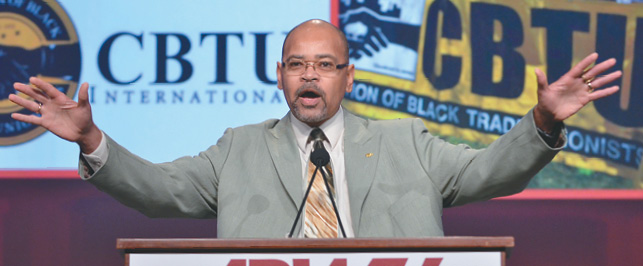 The Coalition of Black Trade Unionists (CBTU) was an early supporter of the Campaign for Postal Banking. CBTU President Rev. Terry Melvin told convention delegates that "postal banking is a huge asset that has yet to be expanded. Currently, the inner cities are devoid of banks and riddled with check-cashing scammers. Our folks living paycheck to paycheck are drowning in fees just to get their money… If we had postal banking, it ends the nightmare. It ends the exploitation, and guess what? It adds revenue. It's a true win-win."
Bring the Campaign to Your Local
Delegates visited the Campaign for Postal Banking booth at the convention, where they learned more about the recent accomplishments:
Inclusion of postal banking in the 2016 Democratic Party Platform;
Delivery of 150,000 petitions to the Postmaster General in December 2015;
Collaboration with the AFL-CIO-backed Take on Wall Street Campaign; and
Inclusion of a Memorandum of Understanding in the APWU contract requiring a Task Force on Expanded Services.
The Campaign distributed "Questions and Answers on Postal Banking," a fact sheet written by Clerk Craft Director Clint Burelson, which is available on the APWU website. Hard copies for distribution to APWU members may be ordered at APWUStore.com.
The fact sheet addresses the following questions:
Why does the APWU support postal banking?
What types of new and expanded services could postal banking provide?
Window clerks are already overworked. Won't taking on postal banking mean more work?
With the addition of postal banking, won't it make it more dangerous for window clerks?
Stay in touch with your union
Subscribe to receive important information from your union.