The Postal Service, Serving 2.7 Billion
(This article first appeared in the November-December 2017 issue of the American Postal Worker magazine)
Contrary to the Postal Service's claims that post offices have less foot traffic than other national retailers, the United States Postal Service is truly the nation's leader in service. Postal workers assist customers at more than 30,000 retail outlets across the country, which is about as many locations as McDonald's, Starbucks and Walmart combined, according to a recent Office of Inspector General (OIG) report.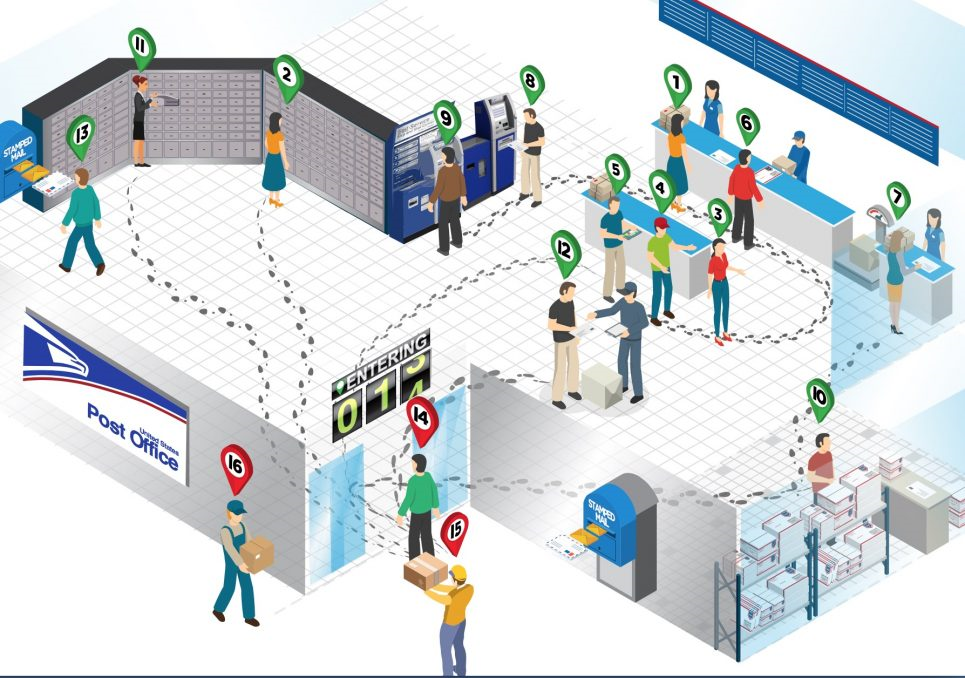 To be exact, the Postal Service served 2.7 billion customers in Fiscal Year (FY) 2016, about triple the amount of official statistics, lauds the September report Billions Served: Foot Traffic at the Post Office.
The Postal Service claims that there were just 877 million customer visits in FY 2016, but that number only includes customers who completed retail transactions. It does not account for the majority of postal customers who visit a brick-and-mortar post office and do not complete a transaction, but rather drop off a letter, check their PO Box or pick up free shipping materials.
OIG researchers went a step further and measured the foot traffic in post offices, branches, and stations that serve retail customers.       
How They Did It 
To calculate foot traffic, the OIG created a special model that combines USPS data on transactions and occupied post office boxes; survey-based estimates of post office activity and assumptions about how those figures translate to foot traffic. This past spring, researchers tested people-counting devices at the public entrances of 32 large post offices in the Northern Virginia District. The counters kept track of foot traffic hour by hour, for two weeks at each branch.
The results were very accurate – the devices' count came within 2 percent of the model's predicted visits.
Despite what postal critics say about declining customer volume, post office foot traffic is on par with foot traffic at corporate retailers.
In fact, the largest 450 post offices, or "Mega" locations, have the same number of average weekly visits as a Best Buy store. The next tier of "Large" locations have average visits of 4,095 per week, roughly the same as a typical CVS store. "Small/Medium" post offices have 1,599 average weekly visits, about the same as a typical bank branch.
Who Are the Customers? 
In tandem with its foot traffic calculations, the OIG conducted a national survey on post office use among 18-75 year olds. They found that PO Box customers are the most frequent visitors, with about eight to ten monthly visits. Next are the self-employed and those who use the USPS mobile app – despite the fact that the Postal Service touts that the app saves a trip to the post office.
Findings Support Expanded Services
This study adds to the argument for the USPS to expand services – such as postal banking and licenses. Right now, the Postal Service states low retail transactions (877 million) create a "serious roadblock to any retail initiatives" and hinders the implementation of expanded services.
However, with the Postal Service's foot traffic totaling 2.7 billion customers a year, there is a clear market to reach. A customer coming in to check their PO Box or to drop off mail could also be interested in setting up and using a postal banking account.
Stay in touch with your union
Subscribe to receive important information from your union.