PSEs and Postal Banking Feature in Today's Interest Arbitration
Today, APWU presented evidence on postal service expansion and a panel of Postal Support Employees gave testimony on their experience as PSEs in various postal clerk positions.
Postal Support Employees Speak Out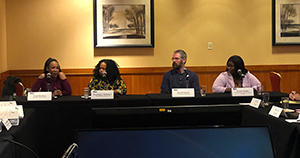 Arbitrators heard from another APWU member panel. In an earlier interest arbitration session, career panels spoke from Clerk Craft, Maintenance and MVS. Today was the turn of Postal Support Employees.
The panelists described their knowledge of the machines they operate and the retail services they provide.
A major issue they face is scheduling – schedules are often changed after they are posted. One member even described having his start time for the next day altered on his day off. People were surprised when he turned up "late," but he had no opportunity to see the amended time.
The work is also hard and the hours are often long. Parents miss important moments in their kids' lives and struggle to get them to school when their finish times are changeable. When they do get time off, they find themselves exhausted and grumpy: "You don't want to, but you sometimes take it home to your family," said David Dinnen.
But despite the hardships, the panel expressed their dedication to the postal mission and the communities they serve.  "I'm proud to be a postal worker. I walk in and out with confidence and my kids are proud," said Dominique Ballinger.
That dedication should be rewarded and their services secured with career status.
"The misconception is that PSEs are secondary help," said Leah Rochon. "We are primary help in the plants. In my plant, we are the alpha and omega at night. We start and finish… I don't see myself being a PSE forever. I want to get to career status and move on."
Expanding service to secure the future
Earlier in the day, APWU presented our arguments as to why diversifying and expanding the services provided through the Post Office would help sustain the service and fill a serious community need.
The main focus of the presentation was on providing financial services through the Postal Service. This practice is common around the world. Such a service could provide basic services to around 80 million people in the U.S. who are either under-banked or unbanked. It would also provide a new revenue stream for the USPS.
Business solutions such as printing, scanning, copying, notary services, ID authentication, and return logistics are also services that would provide a community benefit and keep customers in the postal service.
Cost of Benefits Analysis
Finally, the USPS brought the day to a close with their presentation on the "cost of benefits" in the APWU bargaining unit.
Sign up for Contract News
Stay in touch with your union
Subscribe to receive important information from your union.