Puerto Rico Governor Resigns Following Massive Protests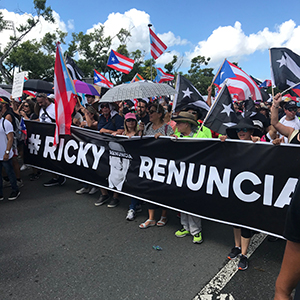 On Tuesday, July 23 an estimated 500,000 people filled the streets of Puerto Rico's capital San Juan, demanding the immediate resignation of Governor Ricardo Rosselló. The protest was one of, if not the, largest demonstration in the Commonwealth of Puerto Rico's history.
The day's protests were the largest of actions beginning on July 13, when the Puerto Rican nonprofit Center for Investigative Journalism released nearly 900 pages of private text chats between the governor and his staff. The leaks included chats that made fun of women and gay people, mocked Hurricane Maria survivors, and referenced shooting San Juan mayor Carmen Yulín Cruz, Rosselló's political opponent.
"There is a lot of corruption in Puerto Rico. The chats were just the last straw. We couldn't take it anymore," said Puerto Rico Area Local President Juan Carlos González-Del Valle, who attended the protests with a group of APWU members from the local.
The island was devastated by Hurricane Maria in 2017, with 3,000 people losing their lives in the storm that caused an estimated $92 billion in damage. Currently in Puerto Rico, unemployment is around 9 percent, with 40 percent of the island's population living in poverty. Thousands have left the island in the aftermath of the storm.
In the first days of last week's protests, Rosselló refused to step down – then he declared he would not run for re-election in 2020. However, the people demanded accountability from their government. They escalated their protest on Monday, shutting down San Juan's major highway and marching to the Governor's mansion.
Remarkably, the protests are the definition of a grassroot, people-led action. "It's very organic, there are no political parties involved," said González-Del Valle. "It's just people going and protesting and it's a very exciting time. I never thought I would see something like this in my lifetime."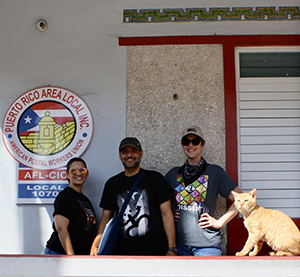 "We are no longer a part of a particular group – we are uniting as one," said Puerto Rico Area Local Secretary/Assistant Treasurer Grisselle Nieves. "We are marching for one thing, and that's justice."
The people's solidarity brought results: in the early hours of Wednesday, July 24, Rosselló resigned from office.
"I congratulate the people of Puerto Rico for their unbreakable and inspiring solidarity, and commend the local officers and members from the APWU Puerto Rico Area Local who attended," said President Mark Dimondstein. "The people are showing that the government answers to us, not the other way around. This movement is just one example of what can be accomplished when worker communities unite as one."
Stay in touch with your union
Subscribe to receive important information from your union.