Solidarity and Support to Victims of Hurricane Harvey
Our thoughts and hearts go out to everyone who has been affected by Hurricane Harvey, especially our fellow APWU members. Texans are reeling after getting slammed by the Category 4 hurricane, resulting in intense flooding over the weekend. The storm has left at least 14 dead and hundreds, if not thousands homeless, as more than 30,000 seek refuge in its wake. Louisianans are also now bracing themselves for Harvey's heavy rain on the 12th anniversary of Katrina.
"We want all of our brothers and sisters affected by Hurricane Harvey to know they are not alone," President Dimondstein said. "We stand together with them and all the families during this crisis."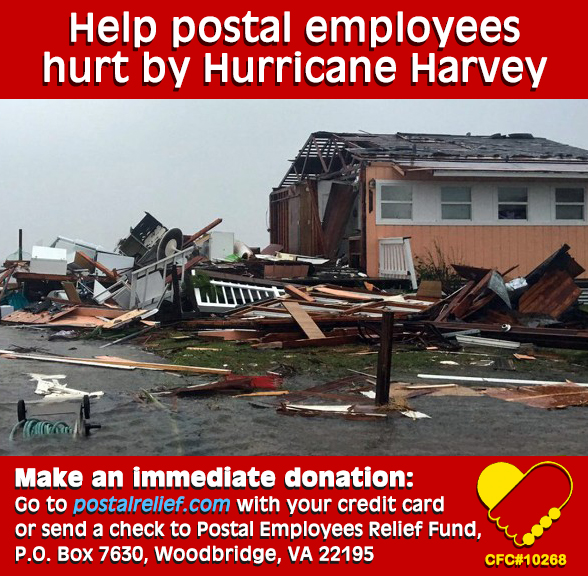 In solidarity, all APWU members are encouraged to continue to donate to the Postal Employees' Relief Fund (PERF). PERF provides relief grants to assist qualifying active and retired postal employees impacted by natural disasters, to help re-establish residence and replenish necessities in the aftermath of a devastating loss. Secure donations can be made by credit card using Pay Pal or through payroll deduction by designating #10268 during the Combined Federal Campaign, which is set to kick-off on October 2nd. PERF is a 501(c)(3) charitable organization. All contributions are tax-deductible.
Members can also make donations to the Texas Workers Relief Fund (Texas AFL-CIO).
Resources for Postal Workers
The Postal Service is advising employees in affected areas to call the USPS national emergency hotline at 888-363-7462 to report their condition and check for changes in their scheduled work reporting status. The Employee Assistance Program (800) 327-4968 is also available around the clock to provide free, confidential counseling and referral services to help employees and their families to obtain resources and cope with their current challenges.
If you are a Union Plus member, you may also be eligible for assistance through the Union Plus Disaster Relief Grant program .
Members in need that have additional questions are encouraged to contact the Human Relations Department by calling (202) 842-4270 or emailing scarney@apwu.org.
Stay in touch with your union
Subscribe to receive important information from your union.