Solidarity in the Great Outdoors
(This article appeared in the September/October 2012 issue of The American Postal Worker magazine)
Sue Carney, Director Human Relations Dept.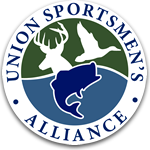 Hunting, fishing and shooting are as American as apple pie. For some, these activities are recreational, for many, it's a way of life. Union members and their families are no exception. Many have taken part in these great American past times for generations, which is why I am excited to introduce our members to the Union Sportsmen's Alliance (USA).
For the first time in history, more than six million union sportsmen and women have a national organization that supports their passion for outdoor living and their commitment to the labor movement.
The Union Sportsmen's Alliance is a unique hunting, fishing and conservation organization dedicated to union members, retirees and their families. Bringing together union members from different trades, the USA is creating solidarity in the outdoors and building a strong volunteer base through conservation projects.
Whether it's fins, feathers or fur that get your heart pumping, the USA is making outdoor experiences more enjoyable with money-saving discounts on gear and services, the latest hunting and fishing news and tips, chances to win prizes and trips, and opportunities to participate in national shooting tours and other outdoor events.
USA members also have their own nationally broadcast TV show, Brotherhood Outdoors, which airs Thursday night on the Sportsmen Channel and was just voted best new show on the network. Brotherhood Outdoors lets viewers watch the excitement of the hunt or the thrill of a catch as union members share their adventures and pass down traditions.
Join the Movement
USA is well on its way to being the largest organization of its kind in North America, and we want to give our members an opportunity to be part of the movement. Members don't have to be avid hunters or fishermen to take an active role; maybe you enjoy hiking, biking, rafting, canoeing, climbing or camping, or maybe you just have an appreciation for nature. Whatever drives you, we don't want you to miss out on what USA has to offer.
USA gives APWU a chance to connect with our members on a more personal level and members get the opportunity to strengthen their sense of camaraderie, expand union relationships, share mutual interests, and enjoy exclusive membership perks. We are hopeful that member participation will inspire greater interest in other union activities and lead to growing our union.
I would like to invite you to join the USA — a community of sportsmen and sportswomen who share the union bond, love for the outdoors and a deep commitment to preserve our hunting and fishing heritage. USA members will receive four issues per year of the digital journal, The Union Sportsmen, and a one-year membership to www.MyTopo.com which is an online mapping subscription. USA members also receive e-newsletters with tips and special offers, a personalized USA membership card (electronic) and access to the "Members-Only" section of the USA Web site. There is a nominal fee of just $45 to activate a three-year USA membership. Visit www.unionsportsmen.org or call 1-877-872-2211 to join.
If you are a sportsman or woman and if you are union, USA is where you belong.
---
Support PERF
Please consider making a contribution to the Postal Employees Relief Fund and the United Way during the 2012 Combined Federal Campaign, Sept. 1 - Dec. 15.
Stay in touch with your union
Subscribe to receive important information from your union.