Statement by APWU President Mark Dimondstein on USPS Electric Vehicle Fleet
On Tuesday December 20, the USPS and the White House announced new plans for a massive transition to electrification of the next generation USPS delivery fleet.
Of the initial purchase of at least 66,000 next generation new vehicles, the USPS has now committed that 75% of them will be electric. In addition, the Postal Service has committed to all "zero emission" fleet purchases by 2026.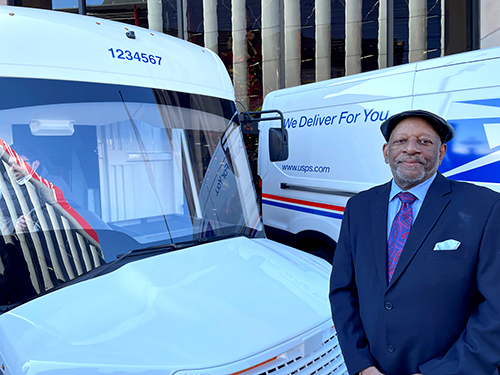 "The APWU welcomes this excellent news," said APWU President Mark Dimondstein. "It is good for the environment, good for future postal revenues, good for postal workers and it is a huge step forward from the original management plans for an only 10% EV fleet. This is progress, for the people, the planet and the Postal Service."
The APWU appreciates the broad coalition of unions, community and environmental groups that pressed hard on this issue over the last two years. Their involvement and public outcry made a big difference in moving the needle and also obtaining helpful Congressional action that provided $3 billion for the postal fleet conversion to EVs. And postal management listened, adapted and eventually made the right decision.
The APWU continues to stand with the UAW (United Auto Workers) that all of the new vehicles should be union made.
The APWU MVS leadership, along with the entire union, will work to ensure that the mechanics who repair the vehicles are fully and properly trained on the new technology and that repair work remains "in house."
The APWU and our community allies will continue advocating for charging stations at post offices which will be available for public use. There is no better network suited to be the foundation of a nationwide system/grid of EV charging stations than the public Postal Service anchored in every town and community.
Stay in touch with your union
Subscribe to receive important information from your union.