Support the 30th Annual Stamp Out Hunger Food Drive on May 14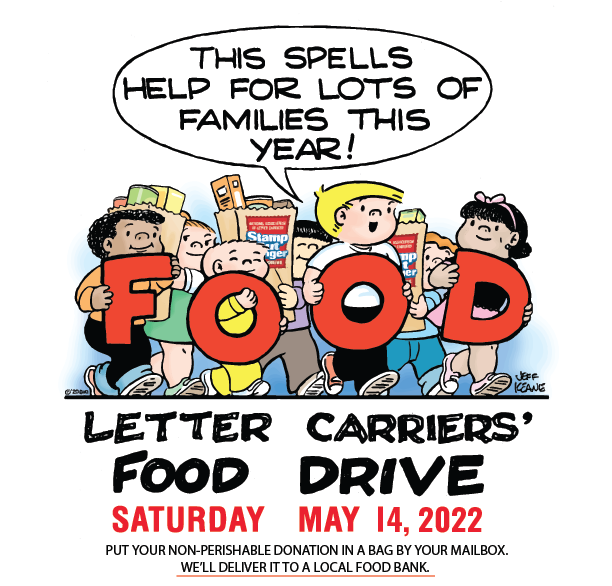 The 30th annual National Association of Letter Carriers (NALC) Stamp Out Hunger Food Drive is taking place on Saturday, May 14. Since its inception, the NALC food drive has donated over 1.8 billion pounds of food to families in need.
"The pandemic has only underscored the needs so many face in communities across the country," said APWU President Mark Dimondstein. "I salute our sisters and brothers in the NALC for their commitment to service and I encourage all postal workers to participate in the Stamp Out Hunger Food Drive at their local level."
It is easy to get involved: Prior to their regular mail delivery on Saturday May 14, postal customers are asked to place non-perishable food donations in a sturdy bag and place the bag next to their mailbox. Letter Carriers will collect the donations as they deliver mail, and donations will help serve your local community.
In 2020 and 2021, during the height of the coronavirus pandemic, the traditional food drive was paused and replaced by NALC's donor drive, where donors made online donations to local food pantries. As the drive resumes, APWU encourages your participation through donations and volunteering at your local food bank.
For information about the drive in your area, please visit nalc.org/food. You can also follow the drive on Facebook and Twitter.
Stay in touch with your union
Subscribe to receive important information from your union.