Tentative Agreements reached for National Professional Postal Nurses (NPPN) and the Information Technology/Accounting Services (IT/AS) units.
The American Postal Workers Union and U.S. Postal Service have come to tentative terms on Collective Bargaining Agreements (CBA) for the National Professional Postal Nurses (NPPN) contract and the Information Technology/Accounting Services (IT/AS) contracts, announced Support Services Director Steve Brooks.
Professional Postal Nurses Win Tentative Agreement on New Contract
After years of struggle to get a successor collective bargaining agreement, Professional Postal Nurses (NPPN) reached an agreement subject to member ratification. The agreement provides retroactive salary increases of 2.4 percent for 2017, 2.9 percent for 2018, and 3.0 percent for 2019.
If ratified the agreement will run through 2023, with annual salary increases based on the increase in the Employment Cost Index (ECI). Unlike other postal collective bargaining agreement, nurses have traditionally received increases based on the ECI rather than the combination of COLA and general increases. The APWU and USPS will jointly review the current grievance process to determine whether any changes might reduce the complexities involved with one local union representing members in every State.
Separate from the tentative CBA, the NPPN and Postal Service agreed to a memorandum allowing for the hiring of 32 additional Occupational Health Nurses across the country.
IT/AS Tentatively Agrees Contract Extension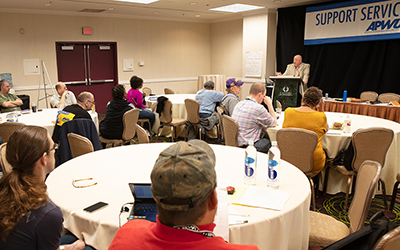 Subject to member ratification, the tentative IT/AS agreement will extend for eighteen months the Collective Bargaining Agreement that expired January 20, 2019. Negotiations have been ongoing since October 2018.
"This relatively short-term extension provides some benefits including work rule improvements now, with a quick return to negotiations early in 2020 for a longer-term agreement when the Postal Service can give its full attention to IT/AS.  We see this in everyone's interest," stated Director Brooks.
The extension agreement will expire on July 17, 2020.  
Employees will receive retroactive general increases and two retroactive COLA increases.
The agreement also provides for a general increase effective January 18, 2020 and a COLA based on the March 2020 CPI.
The extension also upgrades the:


Accounting Specialist Senior from level 17 to level 18,
Property Control Specialist level 14 to level 16,
Procurement & Supply Assistant from level 13 to level 15,
Group Leader Administrative Clerk from level 10 to level 11, and
Administrative Clerk from level 9 to level 10.
There are also working condition changes: creating a career development program, enhancements to the 10/4 work schedules, grievance process improvements, and safety and health procedures improvements.
"All in all, I believe this to be a solid extension agreement and foundation upon which to build in continuing negotiations for a full agreement in the future," stated Director Brooks.
The tentative agreements and ballots will be sent to members for ratification.
Stay in touch with your union
Subscribe to receive important information from your union.